From the Open-Publishing Calendar
From the Open-Publishing Newswire
Indybay Feature
Caged in the USA: Torture in America's many prisons
Below is an article, reprinted in full, reporting on an event in London, England that was organized by the Cage Prisoners organization. One of the featured speakers was Robert H. King of the Angola 3, who was released in 2001 after 29 years in solitary confinement. King's comrades Albert Woodfox and Herman Wallace remain behind bars and have now been in solitary for over 40 years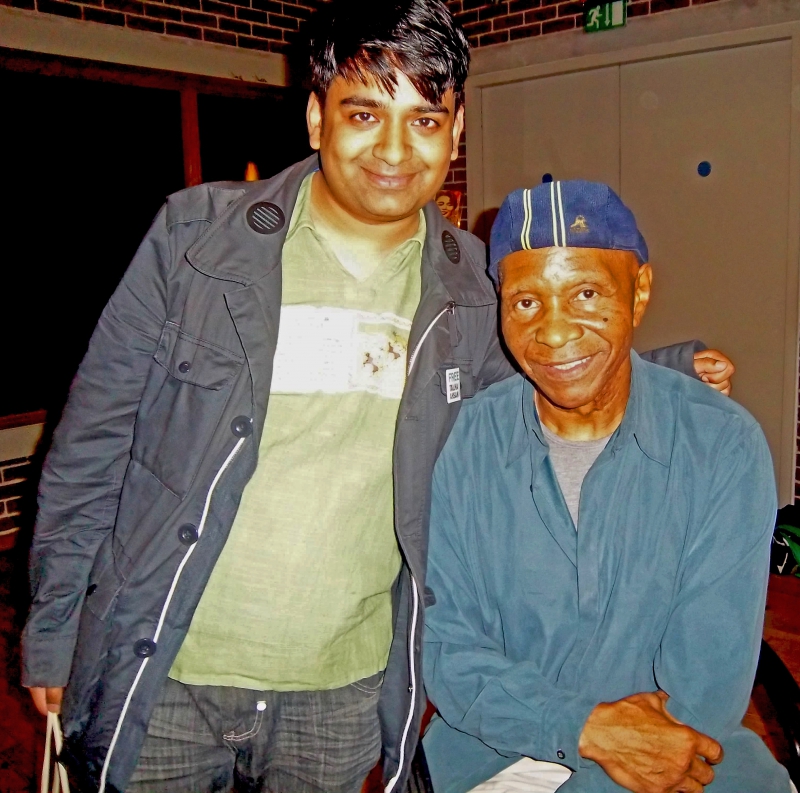 (PHOTO: Robert H. King of the Angola 3 and Hamja Ahsan in London, whose brother Syed Talha Ahsan was recently extradited to the US.)
Caged in the USA: Torture in America's many prisons
By Aviva Stahl, Cageprisoners.com
(Reprinted by Angola 3 News)
Last week, I was lucky enough to be in the audience for a truly remarkable event: a conversation between two men whose lives have been indelibly altered by American's brutal prison regime, Robert King and Omar Deghayes. At first glance, it might seem as if these two men have nothing in common. King grew up in New Orleans in an era of violent racial repression and is a Black Panther to this day; he was convicted by an all-white jury in 1973 for a murder he did not commit, and spent 32 years in Louisiana state prison. In his earliest childhood, Deghayes lived in Libya, but after his father was murdered by Gaddafi, he and his family fled to the UK. Deghayes was arrested in Pakistan in 2002, where he had been living with his Afghan wife and child, and spent over six years detained at Guantanamo without charge or trial.
Angola, Louisiana and Guantanamo Bay are actually quite near to each other. But for anyone present at the event, it was clear that what Omar and Robert had in common was more than geographic proximity during their confinement. After all, they were both unjustly imprisoned. They both fought for years for their freedom. And they both endured the same torture whilst on the inside: long-term solitary confinement.
Now that the words "Guantanamo Bay" have become synonymous with torture, it's easy to assume that the tiny isolation cells where Omar and many others were kept, are something new, invented for the Muslim bogeyman. But solitary confinement in America's "supermax" prisons didn't begin at Gitmo; it began long before 9/11, long before the War on Terror, long before al-Qaeda or the Taliban. In the 1970s, "control units" were put in place, first in Marion prison (which replaced Alcatraz) and then elsewhere. These control units were largely implemented to neutralize activists imprisoned for struggling for Black and Third World liberation - people like Robert King, Ojore Lutalo, Ray Luc Levasseur, Siliva Baraldini, Leonard Peltier, Assata Shakur, and many others. The idea has always been to break prisoners by invoking in them a sense of total dependence on their captors. As Ralph Arons, a former warden at Marion, once testified in federal court, "The purpose of the Marion Control Unit is to control revolutionary attitudes in the prison system and in the society at large".
Nor is the use of solitary to control political or politicized prisoners something confined to the era of COINTELPRO. Take Ojore Lutala, who survived 22 years in solitary in the Management Control Unit in Trenton State Prison, New Jersey. In February 2008, the Review Committee rejected Ojore's requested to be released into general population for the umpteenth time, noting:
"The [Committee] notes your concerns regarding your feelings of persecution and discrimination based on your political affiliation. The Committee continues to show concern regarding your admitted affiliation with the Black Liberation army and the Anarchist Black Cross Foundation. Your radical views and ability to influence others poses a threat to the orderly operation of this Institution..."
Interestingly, Marion – where control units were first born - now houses a Communication Management Unit (CMU), in which Muslims are overrepresented by over 1000%. The two CMUs are so strikingly similar to that dark place where Omar was held, that they've been nicknamed "Guantanamo North": they both hold Muslim prisoners with political affiliations deemed to be dubious, in tortuous conditions of long-term solitary confinement.
Control units now exist in almost every state in the nation, and have also morphed into large supermax prisons like ADX Florence. In fact, it's estimated that today, at least 80,000 people are suffering in solitary confinement in America's prisons, overwhelmingly poor people and people and colour. And it's not just the "most dangerous" (read: most political) prisoners languishing in solitary anymore. Oftentimes, it's the most vulnerable prisoners who end up in solitary – people who are mentally ill, mentally retarded, learning-disabled, or illiterate; these are people who find it the most difficult to follow the minutia of prison rules. More recently, its people perceived to be associated with prison gangs - though as recently explored in an excellent series in Mother Jones, prisoners in Pelican Bay in California may be "gang validated" for seemingly innocuous items like a Christmas card or a drinking cup with a dragon drawn on it.
Solitary confinement... can you imagine it? This is how one inmate at Pelican Bay, Gabriel Reyes, describes it in a 2012 article:
"Unless you have lived it, you cannot imagine what it feels like to be by yourself, between four cold walls, with little concept of time, no one to confide in, and only a pillow for comfort - for years on end. It is a living tomb. I eat alone and exercise alone in a small, dank, cement enclosure known as the "dog-pen." I am not allowed telephone calls, nor can my family visit me very often; the prison is hundreds of miles from the nearest city. I have not been allowed physical contact with any of my loved ones since 1995. I have developed severe insomnia, I suffer frequent headaches, and I feel helpless and hopeless. In short, I am being psychologically tortured."
But prisoners have been fighting back. Last year, inmates at Pelican Bay went on two hunger strikes, and at least 12,000 inmates in 13 of California's prisons eventually joined in solidarity with them. There have also been various lawsuits brought against particular prison wardens and the Bureau of Prisons. Most recently, in June 2012, several inmates of ADX Florence filed a class-action lawsuit against federal officials, arguing that they have violated prisoners' constitutional rights by failing to provide basic treatment for mentally ill prisoners. The lawsuit describes how mentally ill prisoners crumble on the inside: "Prisoners interminably wail, scream and bang on the walls of their cells. Some mutilate their bodies with razors, shards of glass, writing utensils and whatever other objects they can obtain. Some swallow razor blades, nail clippers, parts of radios and televisions, broken glass and other dangerous objects." Another lawsuit, filed in May 2012, alleges that BOP officials were "deliberately indifferent" to the medical needs of a prisoner, Jose Martin Vega, who committed suicide while at ADX Florence. At the Secure Housing Unit in Pelican Bay, 41% of inmates reported experiencing hallucinations, 27% have thought about killing themselves, and inmates successfully commit suicide at 8 times the rate of those in general population.
Torture to the point of insanity, hunger strikes, suicides of despair... Sound familiar? Sounds like Guantanamo. You might remember hearing about Albert Biderman, a sociologist in the 1950s who studied the treatment of American POWs captured in Korea. They were kept in solitary confinement in order to make them "compliant", ie. in order to force them to make false confessions. Biderman's research was later integral to designing the SERE (Survival, Evasion, Resistance and Escape) training that US military receive before they go into the field; but at Guantanamo Bay, military personnel borrowed his work to "reverse-engineer" the ideal environment in which to break detainees. (See below for Biderman's chart entitled "Communist Coercive Methods for Eliciting Individual Compliance, lifted directly by the US military when they were designing interrogation methods). Breaking detainees and inducing them to confess also happens on American soil. Many War on Terror defendants (most notably, Fahad Hashmi) have been held for years in pre-trial solitary confinement, before they eventually plead guilty, willing to do whatever they have to in order to imagine they'll walk out of solitary alive, even if it takes decades.
That brings us back to last week's events, held in response to the recent extradition of Babar Ahmad, Talha Ahsan, and three others from the UK to the US. I imagine Talha, Babar and the others may in pre-trial solidarity confinement right now, prison conditions which are illegal and non-existent in the UK. Meanwhile, Gary McKinnon has stayed on UK soil, since Theresa May is worried that sending him to the US would violate his human rights. It's a shameful day when the European Court of Human Rights (ECHR) shrugs their shoulders, and rule that conditions of solitary confinement in the US don't constitute torture – when even the UN Special Rapporteur on Torture vehemently disagrees with them. But it's rather chilling when May can invoke compassion for McKinnon just days after Talha is whisked away to American soil, when he has also been diagnosed with Asperger's and has an evaluated suicide risk. (Note: Of the 1.5 million people in prison in the US, about 80,000 are in solitary – yet about 39% of inmate suicides happen in isolation units). How telling that she can discuss bringing a forum bar into force, to safeguard British citizens (of course!), when Babar and Talha are already locked away, far away from home, when the entirety of there purported crime was committed in the UK..
During the civil case brought by Binyam Mohamed, we learned that the British government had never opposed the transfer of its own citizens to Guantanamo – in fact, Tony Blair personally rejected the Foreign and Commonwealth Office's (FCO) request to access British prisoners detained by the US. In a 2002 memo from the FCO, officials commented, "We accept that the transfer of UK nationals held by US forces in Afghanistan to the US base in Guantánamo is the best way to meet out counter-terrorism objective by ensuring that they are securely held." As May's differential treatment of Talha and Gary makes clear, the fundamental policies that were in place under Blair continue through today… one rule of white Brits, and another for Muslims. If the government has made anything clear to British Muslims in the past 10+ years, it's that their citizenship rights are revocable, because they are undesirable subjects.
The extraditions of Babar, Talha and the others marks a new chapter in the continuing saga of American torture and British indifference: a tale that weaves from the brutal isolation of Robert King in Angola State Prison to Guantanamo Bay; from those struggling for Black liberation to those eager to fight the American occupation in Afghanistan and elsewhere; from British complicity in the rendition of Omar Deghayes to that of Babar, Talha and the others. But last week's events also marked a break from this long history. It was an event that spanned across continents, generations, political perspectives, faiths, and racial identities, linking our common opposition to the torture of solitary confinement and our solidarity with Talha, Babar and their families for the challenges to come.
Other news related to event: South London Press 'The isolation that leads to insanity' click here:
http://www.southlondon-today.co.uk/News.cfm?id=37778&headline=%E2%80%98The+isolation+that++leads+to+insanity%E2%80%99
This article by Aviva Stahl of Cage Prisoners, reprinted here by Angola 3 News, was first published at:
http://cageprisoners.com/our-work/opinion-editorial/item/5234-%E2%80%9Ccaged-in-the-usa%E2%80%9D-torture-in-america%E2%80%99s-many-prisons
For more, here is a link to Angola 3 News' earlier interview with Aviva Stahl:
http://angola3news.blogspot.com/2012/08/do-us-prisons-violate-european-human.html
We are 100% volunteer and depend on your participation to sustain our efforts!
Get Involved
If you'd like to help with maintaining or developing the website, contact us.