From the Open-Publishing Calendar
From the Open-Publishing Newswire
Indybay Feature
Related Categories:

California | Central Valley | Environment & Forest Defense | Government & Elections
Feds threaten to wipe out future Sacramento salmon runs
"Both the state and federal government are required by Central Valley Project Improvement Act to create conditions that produce just under a million adult salmon annually," said Gonella. "They have failed miserably to abide by this law and we're all seeing concrete examples of how they are instead wiping out our salmon runs."

Photo of spawning salmon by Department of Fish and Game.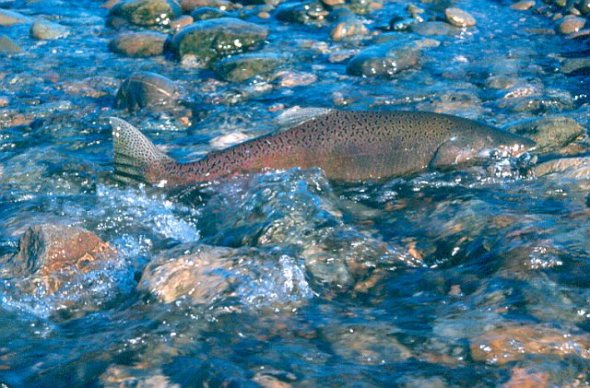 Feds threaten to wipe out future Sacramento salmon runs
by Dan Bacher
Petaluma, CA - Big reductions in water releases from the federal government's Shasta and Keswick dams on the Sacramento River are poised to wipe out a major part of the Chinook salmon run, according to a statement from the Golden Gate Salmon Association (GGSA).
"The federal Bureau of Reclamation, which controls Shasta dam, is the responsible party," the group stated. "A state water data website says water releases are forecast to decline by 14.5 percent between November 21 and November 29. The loss of this water could kill up to a third of the wild fall run salmon eggs, according to one knowledgeable source."
The Sacramento River is now full of spawning salmon and the eggs of salmon that spawned in the last few months. In order to hatch, these eggs must continue to remain submerged in water under 57 degrees. Reducing water releases to the Sacramento River from Lake Shasta "will expose many salmon eggs to air which will kill them," according to the GGSA.
"The salmon being killed are naturally-reproducing wild salmon, not hatchery salmon," the GGSA said. "Restoration of wild fish are of special concern to the Golden Gate Salmon Association and other salmon advocates including state and federal fish agencies."
The GGSA said the Bureau of Reclamation is repeating a drastic action it took last year when it reduced water releases at a similar time. In that instance, according to the California Department of Fish and Game, an estimated 23 percent of the nests of fall run salmon were killed. This will be acutely felt in the salmon fishery in the next few years when fewer fish will return as adults to spawn.
"We call on the Bureau of Reclamation to first coordinate with the US Fish and Wildlife Service, the National Marine Fisheries Service, and the California Department of Fish and Game to get a full understanding of how much water is needed to keep these salmon eggs alive," said Victor Gonella, president of the Golden Gate Salmon Association. "This is our future."
The group said this most recent threat to California's commercially valuable fall run salmon follows damaging state and federal actions in October that killed "untold numbers of salmon."
"The same federal agency, the Bureau of Reclamation, refused to close the Delta Cross Channel Gates in October in order to allow salmon from the Mokelumne River to find their way home to reproduce," according to Gonella. "This refusal came after two prior very successful years of closing the gates to aid the Mokelumne fish that resulted in far higher numbers of these fish returning to their natal streams."
Also in October, the California Department of Water Resources (DWR) drastically reduced water releases from the Oroville Dam on the Feather River leaving tens of millions of salmon eggs high and dry, according to some estimates.
"Both the state and federal government are required by Central Valley Project Improvement Act to create conditions that produce just under a million adult salmon annually," said Gonella. "They have failed miserably to abide by this law and we're all seeing concrete examples of how they are instead wiping out our salmon runs."
The Bureau of Reclamation was not available for comment at publication time.
Zeke Grader, a GGSA board member and executive director of the Pacific Coast Federation of Fishermen's Associations, said the Bureau's action is "plainly illegal."
"The Bureau is obligated to operate Shasta Dam, part of the Central Valley Project, 'to protect fish and wildlife,'" Grader, an attorney, said. "In fact, both state and federal law call for the doubling of salmon populations, not annihilating them which the dewatering of the Sacramento River will do."
Bureau of breaking their own laws
Caleen Audrey Sisk, Chief and Spiritual Leader of the Winnemem Wintu Tribe and GGSA board member, commented, "The Bureau of Rec-my-nation is breaking their own laws. Similarly they ignore the 1941 Indian Land Acquisition Act that allowed them to flood the lands for Lake Shasta but failed to follow their own law. Now, they break the law in killing Chinook salmon by lowering river flows during spawning, when they are supposed to be making sure that the salmon double in numbers. The EIS on the Shasta Dam raise must be opposed and the twin tunnels must be rejected. Salmon are more telling to climate change than just "fish"!
The reduction of flows on the Sacramento River takes place 20 years after the Central Valley Project Improvement Act (CVPIA), a landmark federal law, was signed by President George H.W. Bush. The CVPIA set a goal of doubling the Bay-Delta watershed's Chinook salmon runs from 495,000 to 990,000 wild adult fish by 2002. (
http://www.counterpunch.org/2012/11/23/salmon-on-the-brink/
)
The legislation also mandated the doubling by 2002 of other anadromous fish species — fish ascending rivers from the sea to spawn — including Central Valley steelhead, white sturgeon, green sturgeon, striped bass and American shad. The legislation also made fish and wildlife a purpose of the Central Valley Project for the first time.
Unfortunately, a decade after the law's deadline, the salmon fishery continues to struggle to rebound, largely due to ineffective enforcement by federal and state agencies and continued excessive pumping of fresh water from the Bay-Delta, primarily for corporate agribusiness interests in the San Joaquin Valley.
According to a new salmon index released by GGSA and Natural Resources Defense Council two weeks ago, the Central Valley Chinook salmon fishery has suffered a dramatic collapse over the past decade, now standing at only 13 percent of the population goal required by federal law. The Salmon Doubling Index graphic and a table listing the index by year can be found here:
http://switchboard.nrdc.org/blogs/kcoplin/Salmon%20Index%20Chart%20and%20Table.pdf
The closest the government came to meeting the salmon doubling goal was in 2002, when the index peaked at 64.33 percent of doubling. Last year, in spite of favorable ocean forage conditions, the index was only about 13 percent of the salmon doubling goal.
The NRDC and GGSA analysis, published in the Salmon Doubling Index, reveals a steady decline in Central Valley Chinook salmon from 2003 through 2010, at which point it reached a record low of 7 percent.
While the state and federal governments claimed that ocean conditions prompted the decline, fishing and environmental groups pointed to increased water diversions as a significant cause of this decline. Between 2000 and 2006, freshwater pumping from the Bay-Delta increased 20 percent in comparison to 1975-2000. The record water export year was 2005 until a new record was set in 2011 under the Brown and Obama administrations.
Roger Thomas, a GGSA board member and head of the Golden Gate Fishermen's Association, the group representing charter boats, said, "Our bread and butter is having salmon in the ocean to take fishermen to catch. We can't have federal water managers ignoring the needs of salmon as they manage the reservoirs and dams that regulate Central Valley rivers. They need to keep salmon in mind as they decide how and when to move water."
While the federal government reduces flows on the Sacramento River and fails to comply with the provisions of the CVPIA the Brown and Obama administrations are fast-tracking the Bay Delta Conservation Plan (BDCP) to build the peripheral tunnels. This plan will hasten the extinction of Central Valley salmon, Delta smelt, longfin smelt and other species, according to agency and independent scientists.
For more information on the threat to listed species posed by the BDCP, read the briefing paper by the Bay Institute and Defenders of Wildlife at:
http://www.bay.org/assets/BDCP%20EA%20Briefing%20Paper%2022912.pdf
About the GGSA:
The Golden Gate Salmon Association is a coalition of salmon advocates that includes commercial and recreational salmon fisherman, businesses, restaurants, tribes, environmentalists, elected officials, families and communities that rely on salmon. Their mission is to protect and restore California's largest salmon producing habitat comprised of the Central Valley river's that feed the Bay-Delta ecosystem and the communities that rely on salmon as a long-term sustainable, commercial, recreational and cultural resource.
Currently, California's salmon industry is valued at $1.4 billion in economic activity annually and about half that much in economic activity and jobs again in Oregon. The industry employs tens of thousands of people from Santa Barbara to northern Oregon. This is a huge economic bloc made up of commercial fishermen, recreational fishermen (fresh and salt water), fish processors, marinas, coastal communities, equipment manufacturers, the hotel and food industry, tribes, and the salmon fishing industry at large. For more information, go to:
http://www.goldengatesalmonassociation.com
Check out the new salmon video here:
http://www.youtube.com/watch?v=q0ct3gSUiTU
We are 100% volunteer and depend on your participation to sustain our efforts!
Get Involved
If you'd like to help with maintaining or developing the website, contact us.