From the Open-Publishing Calendar
From the Open-Publishing Newswire
Indybay Feature
Related Categories:

U.S. | Government & Elections
9 Men Whose Presidential Elections Were Stolen.... This Year Protect The Vote
John Adams, John F Kennedy and Jimmy Carter had their 2nd terms stolen by French imperialists murder or fraud. See below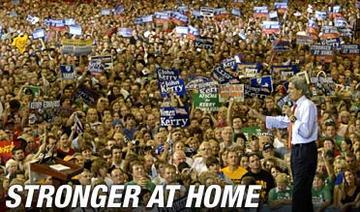 Georgian, Tennesseean, New Yorker and 6 Massachusetts Men Whose Elections Stolen By The Plutocracy
At least 9 Candidates' Elections Were Stolen Through Fraud. This Year Please Protect The Vote
The ownership by Republicans of over 80% of the 'voting machine companies' (e.g. ESS, Dominion, Sequoia), the ownership by warmongers of radio and tv networks, the ruling of the Republican dominated Supreme Court that money is speech and that billionaires may have a lot more speech than the poor
are some of the many ways they have stolen elections. As more and more countries around the world go back to paper ballots, more and more on the local level are organizing to protect the legitimate vote count.
http://www.blackboxvoting.org/video.html#protect-the-count-1
US PRESIDENTS WHOSE ELECTIONS WERE STOLEN
1 Samuel Tilden was elected president by popular vote in 1876.
2 Albert Gore was elected president by popular vote in 2000. The will of the American people was stolen by 5 unelected Republican Supreme Court 'justices' who as of the present serve for life. In 2012, protect the count.
3 John Kerry was elected president in 2004. In Zanesville Ohio 17,000 people in what
was considered a more Republican district waited hours in the rain to see him. Bush never drew more than 4100 in an Ohio crowd. At the Fairlawn Ohio Hilton, Wally O'Dell, CEO of Diebold, gave a check to Dick Cheney in 2004, and publicly told him Diebold
would do all it could to elect him, Bush and other
Republicans. This statement was reported by the Plain
Dealer. O'Dell has stepped down. Diebold sold its voting machine business which is now
owned by a conservative Canadian conservative called Dominion whose most recent trickery was manipulating figures in the recall election of the Wisconsin Republican governor. A congressional investigation and one by Robert F Kennedy Jr tabulated the
thousands of dirty tricks in Ohio.
http://whatreallyhappened.com/WRHARTICLES/2004votefraud_ohio.html
http://www.whatreallyhappened.com/2004votefraud.html
4 Jimmy Carter's 2nd term was stolen by Reagan operatives and
black ops conducted by his operatives G H W Bush, Oliver North and others. Included are sabotage of Carter's helicopters directed at rescuing the hostages, Bush Mideast oil contacts which deliberately dried up the oil supply, and a meeting March 12, 1980 between Bush, Wolsey and Iranian represents to keep the hostages in jail until after the November election. Few know the entire ramifcations of what is known as Iran Contra.
5 Michael Dukakis' election in 1988 was stolen by a number of Bush tactics including hiring Roger Ailes later of Fox News to run racist ads.
6. John F Kennedy's second term was stolen by J Edgar Hoover, the CIA, war profiteers and others who arranged to have him murdered.
7. Robert F Kennedy's first term was stolen by the same forces.
8. Ted Kennedy's presidential race was stolen by a CIA arranged plane crash in which
his 2 copassengers were killed and his own back broken. In addition. the Nixon tapes
record John Dean telling Richard Nixon "Kennedy doesn't know what a bear trap is waiting for him in Massachusetts." E Howard Hunt would arrange the black op which
centered around a party for the staff of the slain Robert F Kennedy.
9. John Adams' 2nd term was stolen by Thomas Jefferson who cooperated with French imperialists in dirty tricks to end Adams' defense of Haitian revolutionaries and to bring Haiti back under French colonialization.
Senate Elections
1 Walter Mondale, former vice president of the US, was elected to the Senate in 2002,
but Diebold* voting machine fraud gave the election to Norm Coleman.
2 Jean Carnahan, wife of the slain Mel Carnahan, won the Missouri Senate seat in 2002,
but Diebold voting machine fraud gave the election to Jim Talent.
3 Jeanne Shaheen won the New Hampshire Senate seat in 2002 but voting machine fraud gave the seat to John Sununu.
4 These are only a fraction of thousands of voter fraud incidents by Republicans which has since Tilden's time in 1876 used voter suppression tactics, gerrymandering,
bribery, illegal poll taxes such as currently in Texas, frequent changes of precinct etc.
******************************
FLORIDA
Jeb Bush operatives removed hundreds of thousands illegally from the voting rolls.
In 2000, the Jacksonville daily paper, the Florida Times Union, printed a special edition for the black community. Only in this edition did editors instruct that every page of the ballot was to
be marked. Thus did editors conspire with the Republican establishment to invalidate many thousands of ballots in Jacksonville.
There were police manning barricades a block from voting places.
OHIO
Ohio was the deciding state in the 2004 election.
Robert F. Kennedy Jr.in a Rolling Stone investigation, proved that the GOP stopped more than 350,000 Democrats in the state from voting.
At Kenyon College, voting machines were unavailable throughout the day. Students waited in line til 4am the following morning to vote.
At a church in North Akron, voters were kept waiting in the rain for an hour as staff were
deliberately delayed by the Summit County Republican Party.
In Warren, Ohio, observers were locked out as Diebold machines were quickly fixed.
SOUTH DAKOTA
Behind in the polls, Thune, candidate for the Democrat Daschle's seat in the Senate sent his
Thune thugs to intimidate Native Americans at polling places.
Footnote:
Diebold fraud
http://rense.com/general80/die.htm
Read more:
http://www.rollingstone.com/music/pictures/rolling-stones-biggest-scoops-exposes-and-controversies-2-aa-624/ohio-election-stolen-17165073#ixzz27aQk6cWa
The murders of Paul Wellstone and Mel Carnahan
http://www.wanttoknow.info/wellstonecarnahan
John Perkins author of Economic Hitman describes the number of CIA arranged plane crashes.. in which Latin American and other presidents died
http://economichitman.com/
http://www.alternet.org/tea-party-and-right/billionaires-ballot-bandits-karl-rove-and-republican-dark-art-election-theft
We are 100% volunteer and depend on your participation to sustain our efforts!
Get Involved
If you'd like to help with maintaining or developing the website, contact us.