From the Open-Publishing Calendar
From the Open-Publishing Newswire
Indybay Feature
Tax Day Protest: Occupy Monterey Demands Corporations and the Wealthy Pay Their Share
On April 15, Tax Day in the United States, demonstrators with Occupy Monterey Peninsula lined Del Monte Avenue across from Window on the Bay in Monterey to protest tax policies that favor the wealthy. Demonstrators held signs for passing traffic in the high visibility location, and encouraged drivers to, "Honk for the millionaires tax."
Tax returns have been due on April 15 since 1955, though some years the date is adjusted to allow for the celebration of the District of Colombia's Emancipation Day, or if the day falls on a Sunday. This year, Tax Day was set for April 17.
According to the Tax Policy Center, in 1963 there were 24 federal income tax brackets (compared to six today) and the top rate was 91 percent. At that time, the rates in 19 of the 24 brackets were higher than the current top rate of 35 percent. Since the 1950s, corporate income tax as a share of the Gross Domestic Product (GDP) has dropped consistently from 6% to just below 1% in 2009. This means the tax rates corporations effectively pay are roughly half what they were in the 1950s. Occupy Monterey points out in their Tax Day press release that, "the most profitable corporations exploit tax loop holes in order to avoid taxes," and that, "if these companies were to pay the nominal rate of 35%, federal revenues would be increased by $78 billion annually."
The full press release Occupy Monterey Peninsula issued for Tax Day:
Occupy Monterey Peninsula
PRESS RELEASE:
FOR IMMEDIATE RELEASE
April 15, 2012
Monterey, CA
OCCUPY MONTEREY PENINSULA PROTESTS TAX POLICIES THAT FAVOR THE RICH
On Sunday, April 15, 3-6 p.m., Occupy Monterey Peninsula protest tax policies that favor the wealthy at Window on the Bay in Monterey. Taxes for the wealthy at are historic lows and have been consistently cut since the 1960s. Capital gains, which is the primary tax for the wealthiest Americans, is only 15%. The highest marginal tax rate of 35% is lower than it has been since before WW I.
http://www.taxpolicycenter.org/taxfacts/displayafact.cfm?Docid=213
Wealthy individuals are protected from paying their full share of payroll taxes, which fund Medicare and Social Security. Income over $110,100 is not taxed for purposes of Social Security and Medicare. Robert Reich, UC Berkeley Professor and former US Labor Secretary who spoke at the Panetta Institute in April, claims that there is no Social Security crisis and we could make the program solvent indefinitely by raising the FICA cap to $180,000.
http://robertreich.org/post/3331762717
On Tax Day, when millions of hard working Americans will pay their taxes, many multi-national corporations will pay nothing. Although the nominal tax rate for corporations is 35%, many of the most profitable corporations exploit tax loop holes in order to avoid taxes. According to the Citizens for Tax Justice, 30 American corporations paid no federal taxes from 2008-2011.
http://communities.washingtontimes.com/neighborhood/life-lisa/2012/apr/14/big-corporations-still-pay-no-taxes/
Not only didn't they pay taxes, but many received tax rebates, despite making large profits. The list of corporate tax dodgers includes GE, PG&E, DuPont, Verizon, Boeing, and Wells Fargo.
http://thinkprogress.org/economy/2011/11/03/360185/30-corporations-no-taxes/
Had these 30 corporations paid the 35% tax rate, Federal revenues would have been increased by $78 Billion. Meanwhile, hard-working Americans and small businesses are paying a larger share of the federal budget than ever.
As Congress debates how to pay the growing and alarming federal deficit, Occupy Monterey Peninsula makes the following recommendations:
1) Raise the income cap for FICA to $180,000
2) Raise the marginal tax rate for millionaires to 39.60%, the rate it was in the 1990s when the economy was strong.
3) Raise the capital gains tax rate to 28%, the same as under President Reagan
For more information about Occupy Monterey Peninsula, see:
http://www.occupymontereypeninsula.org/
Alex Darocy
http://alexdarocy.blogspot.com/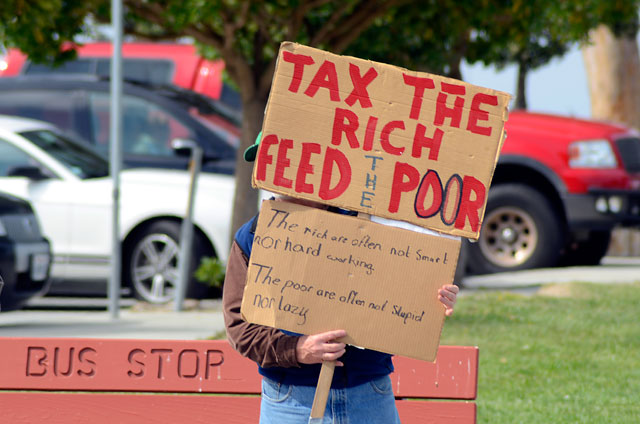 "Tax the Rich - Feed the Poor - The rich are often not smart nor hard working - The poor are often not stupid or lazy"
"There's No Such Thing As Trickle Down!"

"Tax Cheater of the Month - Fed Ex, B.P., Apple, B of A, Verizon, G.E. - Make Them Pay"
You Are the 99%

Occupy Monterey
We are 100% volunteer and depend on your participation to sustain our efforts!
Get Involved
If you'd like to help with maintaining or developing the website, contact us.