From the Open-Publishing Calendar
From the Open-Publishing Newswire
Indybay Feature
Assemblymember Atkins Warns Queer Democrats on State Budget Cuts
California State Assemblymember Toni Atkins spoke to the predominantly Queer San Diego Democratic Club February 24 and warned of two approaching deadlines coming up in the state legislature's budget deliberations: March 6, the ending of the special budget session called by former Governor Arnold Schwarzenegger; and March 10, the last day the legislature can vote to call a special election to extend the current state sales tax rates and vehicle licensing fees so that current Governor Jerry Brown's budget, which calls for $12.5 billion in spending cuts, can be enacted. Without that — and so far the Republican minority in the legislature has held firm to block any vote on the tax issue, which requires support from 2/3 of both houses of the legislature even to make it to the ballot — Brown and the Democratic majority will have to make $12.5 billion more in spending cuts, which will virtually end California state spending on health and welfare and eviscerate the state's already underfunded education system.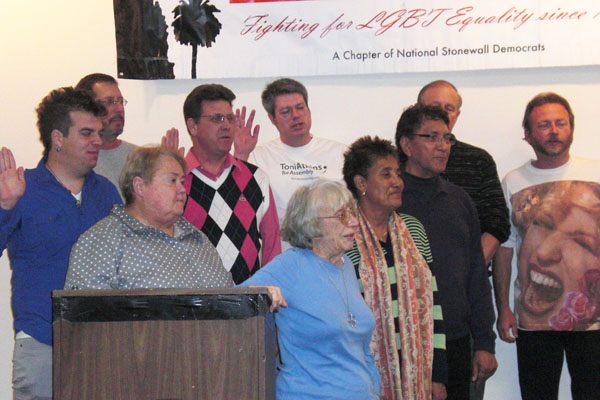 Assemblymember Atkins Talks on State Budget to Queer Democrats

Vince Hall, Stephen Whitburn Discuss Local Redistricting

by MARK GABRISH CONLAN

Copyright © 2011 by Mark Gabrish Conlan for Zenger's Newsmagazine • All rights reserved

PHOTOS, top to bottom: new San Diego Democratic Club officers sworn in, Toni Atkins, Vince Hall, Stephen Whitburn

"Before we can get to legislation, we have to pass a budget," said recently elected California State Assemblymember Toni Atkins (D-San Diego) to the predominantly Queer San Diego Democratic Club at their February 24 meeting. That's not just a matter of political or fiscal prudence, she explained; it's a parting gift former Governor Arnold Schwarzenegger left to his successor, Jerry Brown. He called the legislature into special session, which lasts until March 6, during which time they're only allowed to work on budget issues. "We can't hold any other hearings,." Atkins explained. "We can't hold any committee meetings. When the governor pulls that card, we cannot do any other legislative work but focus on budget."

Another, even more important deadline is looming for the legislature on budget issues: March 10. That's when the legislature has to approve language for a ballot measure to go before the voters in a special election to extend the state's current sales tax rates and vehicle license fees, which passed as a temporary two-year measure in 2009. Governor Brown came into office with a package for closing half the state's $25 billion budget deficit with spending cuts and half by keeping these revenues, which otherwise would end this year. But because California's Constitution still requires a two-thirds vote on tax issues, even to put it on the ballot requires "the support of a couple of Republican colleagues" — and so far the Republican legislators have stood united and steadfast in opposition.

The $12.5 billion in spending cuts in Brown's budget proposal, Atkins said, will target "every group of people you would consider vulnerable in the state of California … seniors, working families who count on child care, health care for children … the disabled, people who count on medications for HIV and AIDS." Virtually all California's social programs have already been cut in successive budgets under Governor Schwarzenegger, Atkins said — "We already lost dental coverage for kids" — and she admitted that Brown's budget proposal will cause even more pain for those Californians least able to bear it. And it could get even worse if the Republican caucus in California's legislature has its way.

"If we do not vote to extend the taxes, we are going to have to go back and cut another $12.5 billion," Atkins warned. "It could mean we completely wipe out every social service and health care-related program we have — [affecting] the most vulnerable people in California — and education, class size reduction, colleges and universities. California still has the best colleges and universities in the country — in the world — but the more we don't feed that system and that structure, [the more] we're going to spiral down. There are going to be impacts long-term because we're not investing in education at every level. Double the cuts, and we basically lose education [and make] significant cuts in health care."

What's more, according to one club member who's also a labor union official, his union has been briefed that the chances of getting the Republican support needed to hold the special election is "50-50 at best." Atkins said not only has virtually every Republican in the state legislature signed national Republican strategist Grover Norquist's "no new taxes" pledge, a number of them have formed a "tax caucus" whose purpose is to block any new revenue sources for the state. Right now Governor Brown's budget plan is being discussed in a conference committee between the two houses of the legislature, Atkins explained, "and there are some things that are being discussed as possible strategies" to peel off the handful of Republican votes needed to put the tax measure before the voters.

Atkins also discussed the possible local effects of Governor Brown's proposal to do away with local redevelopment agencies and redirect the tax money they suck out of cities' and counties' general funds to schools and county governments. "Some people may be thrilled by that, and some people may not be," Atkins said. "There are good pieces to redevelopment — like the 20 percent set-aside for low- and moderate-income housing — that [the loss of which] disturbs me greatly. There've been good things done with redevelopment dollars in North Park, City Heights and parts of downtown. There have also been major abuses."

According to Atkins, when she went to Sacramento after serving eight years on the San Diego City Council, she hoped to reform redevelopment — not bury it — but not only did Governor Brown have other ideas, a proposition passed by voters in November 2010 that limits the state's ability to take revenues from cities and counties makes it virtually impossible even to negotiate fund transfers with redevelopment agencies. Hence Governor Brown decided that the only way to redirect redevelopment money to schools and other services was to end redevelopment altogether. The proposal is still being negotiated, Atkins said — "the Senate totally approved the governor's plan to eliminate redevelopment … the Assembly left in a little paragraph that will leave in a little room for maneuverability" — and, she added, "My hope is that we preserve affordable housing dollars."

The budget and tax issues have overshadowed two bills Atkins has introduced and intends to push strongly for this legislative session. One is AB 499, which would fix a quirk in current law that allows minors to obtain treatment for sexually transmitted diseases without parental consent, but not prevention. "I think we're catching up with the times," she said, adding that her bill would allow teenage girls to follow the Centers for Disease Control (CDC) recommendation to get vaccinated for the human papilloma virus (HPV), a sexually transmitted infection believed to increase a woman's risk for breast cancer.

Atkins' other pet bill, which she's carrying for the Queer lobbying group Equality California, is AB 887. Currently, she explained, California's civil rights laws state that you cannot discriminate on the basis of "sex" — which is defined as "gender, gender identity and gender expression." What her bill would do is insert that definition in 34 separate places in current laws that just use the term "sex," thereby "mak[ing] clear and strengthen[ing] the protections people should have, especially in our Transgender community," Atkins explained. "We need to make sure that people who need their rights protected know that they really are protected."

Redistricting, Part Two: The Local Level

The club also heard from Planned Parenthood lobbyist and former Assembly candidate Vince Hall, and former County Board of Supervisors candidate Stephen Whitburn, on the local ramifications of redistricting, the process of redrawing political boundaries every 10 years to comply with new census data. The previous meeting had featured an elaborate presentation on state legislative redistricting by San Diego County Democratic Party chair Jess Durfee — particularly on how the shift from having legislators draw their own districts to having an independent commission do it will affect Democrats and how the party can affect the process — and Hall and Whitburn covered some of the same ground, particularly the elastic definition of the term "community of interest" as it's used in redistricting.

Hall pointed out Charlie McKain, longtime activist and club member who for the 1990 redistricting — the last done by the San Diego City Council before city voters formed their own independent commission — drew a map that brought Hillcrest and North Park together in the same City Council district and thereby enabled voters to elect an openly Queer Councilmember for the first time. "There had been a tradition of splitting Hillcrest and other neighborhoods with large LGBT [Queer] populations," Hall explained. "The San Diego Democratic Club provided the leadership to stop that, and Charlie unveiled a map on [then-City Councilmember, now Congressmember] Bob Filner's conference table on which he had sketched out a Third City Council District."

McKain had done in-depth research to draw his lines, Hall recalled. "He had drawn on membership lists of the San Diego Democratic Club and other LGBT groups, the locations of bars and listings of same-sex, similar-age couples," he explained. "The map Charlie McKain presented produced an electoral victory that shocked the city, when a very popular candidate was defeated by Christine Kehoe [in 1993]. Three years later she was re-elected against token opposition." After Kehoe was forced out due to term limits, her staff chair Toni Atkins, also an "out" Lesbian, won the next election against the formidable opposition of former Councilmember John Hartley — and when Atkins herself was termed out the general election was between two openly Gay men, Todd Gloria and Stephen Whitburn.

According to Hall, the Queer community's big challenge is going to be to preserve the general outlines of the current District 3 in the face of an expansion of the City Council from eight to nine members, and also the ongoing demands of the Asian-Pacific Islander (API) community for a Council seat of their own. (Ironically, current District 3 Councilmember Todd Gloria is of Filipino ancestry and therefore counts as API.) Hall said the main task is making sure the redistricting commission continues to recognize the Queer community as a "community of interest" because "it is a community that has been oppressed and has organized against oppression. It has elected legislators and is a voting community that enforces its ideals regardless of party affiliation." The city's redistricting commission is meeting every Thursday at 4 p.m. at City Hall, 202 "C" Street downtown, and Hall and other activists urged as many club members as possible to attend and make the case for continuing the current District 3 in substantially the same form.

Whitburn conceded that redistricting for the San Diego County Board of Supervisors is "a very different animal" because, unlike the state legislature and the San Diego City Council, the Supervisors still get to draw their own districts. Based on previous experience, Whitburn said, "the Board of Supervisors has an advisory commission which will present three maps, and the Board will throw them out and do their own." Whitburn said he's hoping that Bruce Resnick of San Diego Coastkeeper is hoping to get enough people "involved in the process so they will be forced to care" — and to lay the groundwork for a lawsuit under the federal Voting Rights Act in case the Supervisors adopt a blatantly discriminatory map against the recommendations of their own commission.
We are 100% volunteer and depend on your participation to sustain our efforts!
Get Involved
If you'd like to help with maintaining or developing the website, contact us.