From the Open-Publishing Calendar
From the Open-Publishing Newswire
Indybay Feature
ACOEM NEW YEARS RESOLUTION TO CHANGE MOLD POSITION STATEMENT
The organization of ACOEM (American College of environmental Medicine) seems to have become home for those who wish to inject doubt into the health effects of Mold exposure.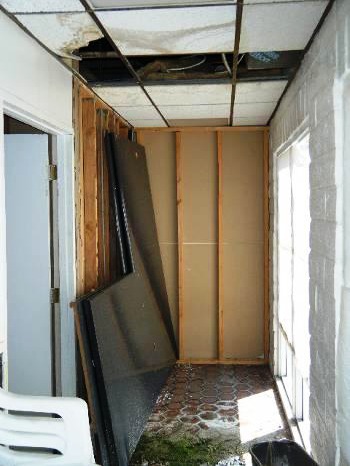 Knowledge of harmful effects of mold is something that goes back to Biblical times it was written in Leviticus 14:45 "A house desecrated by mildew, mold, or fungus would be a defiled place to live in, so drastic measures had to be taken". Those simple 23 words spelled out the harmful effects of Mold to mankind for thousands of years. We only now in the last 20 years find ourselves in a debate over the harmful effects of mold.
The organization of ACOEM (American College of environmental Medicine) seems to have become home for those who wish to inject doubt into the health effects of Mold exposure. ACOEM released their position statement on mold in 2002. The position statement which was written by Bryan D. Hardin, PhD, Bruce J. Kelman, PhD, DABT, and Andrew Saxon is now the go to document when building owners, insurance companies and others find themselves defending against mold related injuries. This position statement has been very profitable for the authors, the insurance industry and Sick Damp building owners.
http://www.acoem.org/guidelines.aspx?id=850
Two of the Authors Hardin and kelman also use the mold position paper they helped to create for ACOEM, for their own personnel gain as defense witnesses in mold cases thru the Company Veritox.
The damage and reported health effects seem to have no social or economic boundaries. The one thing I found of extreme interest is that some of the people reporting Illness from mold exposure where Firefighters, Medical Examiners, School Teachers, Police Officers, Hospital staff, all professionals with high levels of public trust. I found myself asking how could so many people all be having many of the same health related reactions to mold exposure, if the position statement by ACOEM was true? " Except for persons with severely impaired immune systems, indoor mold is not a source of fungal infections. Current scientific evidence does not support the proposition that human health has been adversely affected by inhaled mycotoxins in home, school, or office environments"
The effects Of Mold exposure listed on The Environmental Protection Agencies (EPA) website are "nasal stuffiness, eye irritation, wheezing, or skin irritation. Some people, such as those with serious allergies to molds, may have more severe reactions. Severe reactions may occur among workers exposed to large amounts of molds in occupational settings, such as farmers working around moldy hay. Severe reactions may include fever and shortness of breath. Some people with chronic lung illnesses, such as obstructive lung disease, may develop mold infections in their lungs" Other Government agencies also seem to conflict with the ACOEM mold position. The CDC Niosh Division which has conducted numerous Health Hazard Evaluations and comparative studies in regards to mold exposure and list the above health complaints as consistent with symptoms of those working in water damaged buildings. The federal Division of Occupational Safety and Health Administration OHSA finds that " Molds can also cause asthma attacks in some individuals who are allergic to mold. In addition, exposure to mold can irritate the eyes, skin, nose and throat in certain individuals." The Federal Emergency Management (FEMA) list these as symptoms to Mold exposure "Health symptoms known to be associated with exposure to mold include nose and throat irritation, wheezing, coughing, asthma attacks in individuals who have asthma, and lower respiratory tract infections (in children). People with pre-existing respiratory conditions may get worse."
The findings and recommendations about mold exposure and symptoms by EPA, CDC, Niosh, OHSA and FEMA leaves me to wonder why a Organization such as ACOEM and its members are able to put in place a public health policy which should fall under control of one of the Government agencies listed above. The FEMA site states in regards to their Mold health information "This Safety and Health Information Bulletin is not a standard or regulation, and it creates no new legal obligations. The Bulletin is advisory in nature, informational in content, and is intended to assist employers in providing a safe and healthful workplace." The Position statement by ACOEM while not setting a regulation does attempt to set a standard in the medical community. The current mold guidelines put into place by ACOEM in 2002 seem to have placed them above Government regulations and control.
ACOEM has announced that it will be updating the mold guidelines with information from IOM and the World Health Organization (WHO). being moderated March 27, 2010 by Beth Young MD and Faculty Michael G. Holland "We will review the 2009 World Health Organization review, the Institute of Medicine Report from 2004 (IOM Report), and the revised ACOEM mold guidance document from 2010. We will discuss how to address patients' concerns about mold exposures in damp indoor environments and diagnosis and treatment of related conditions We will review current data regarding exposure assessment to damp indoor environments" A number of Physicians, Attorneys and concerned Citizens have been asking for several months to allow comment and review on the new guidelines. To date they have not been extended an invitation, even after sending a petition to Pamela Hymel President of ACOEM.
http://www.petitiononline.com/ll34Dl0W/petition.html
I found this interesting as ACOEM uses it organization to lobby State and Governmental agencies frequently, ACOEM likes to provide input and is not welcome to receive it from others on the health hazards of mold.
The Lawrence Berkley Institute (LBI) has reported that " There were no statistically significant inverse findings of improved health with dampness or mold. The health outcomes found to increase with dampness and mold, (e.g. lower respiratory symptoms typical of asthma, mucous membrane symptoms, headache, and fatigue) are the same as those found to be associated with dampness and mold in housing." The LBI also states that" Since completion of the IOM review, two new related analyses were completed for this Scientific Findings Resource Bank. A quantitative statistical evaluation of the available scientific literature produced estimates and uncertainty bounds for the average magnitudes of increases in various respiratory health effects in homes with dampness and mold. Building dampness and mold were determined to be associated with 30% to 50% increases in a variety of respiratory and asthma-related health outcomes. The observed increases in these adverse health effects in damp or moldy homes were very unlikely to be the result of chance"
http://eetd.lbl.gov/ied/sfrb/dampness-risks-house.html
The World Health Organization Report completed in 2009 states" Sufficient epidemiological evidence is available from studies conducted in different countries and under different climatic conditions to show that the occupants of damp or moldy buildings, both houses and public buildings, are at increased risk of respiratory symptoms, respiratory infections and exacerbation of asthma. Some evidence suggests increased risks of allergic rhinitis and asthma"
The most recent information on the effects of water damaged buildings can be read at
http://www.policyholdersofamerica.org/doc/CIRS_PEER_REVIEWED_PAPER.pdf
The report states
"Actual research studies done on humans have shown a consistent pattern of illness
symptoms identified following exposure to the interior environment of WDB. Over 40
studies, including over 50,000 patients from 14 countries published since the IOM report,
show that the illness is recognized globally. Those who would disagree with the concept
that exposure to WDB can cause illness ("Nay-Sayers") are unable to provide evidence of
a single human research study that includes physiologic parameters showing that no
illness exists following exposure to WDB. In the absence of any studies refuting the
presence of illness, and the multiple studies demonstrating presence of illness, each
showing epidemiologic similarity one to the other, the arguments against human illness
from WDB are hollow and unscientific"
The growing distrust over ACOEM position statements and treatment guidelines has many Doctors,
http://www.anesthesiologynews.com/index.asp?section_id=2&show=dept&issue_id=555&article_id=13763
http://www.drcraner.com/images/A%20Critique%20of%20the%20ACOEM%20Statement%20on%20Mold.pdf
http://www.viaw.org/working.html?menu=working
http://www.moldwarriors.com/SK/WSJOnlineJan92007.pdf
Public Officials, journalists and injured workers questioning just who ACOEM is treating?
We are 100% volunteer and depend on your participation to sustain our efforts!
Get Involved
If you'd like to help with maintaining or developing the website, contact us.