From the Open-Publishing Calendar
From the Open-Publishing Newswire
Indybay Feature
Related Categories:

Central Valley | Media Activism & Independent Media
Modesto Anarcho #15: Out Now! Plus: Timeline of Police Repression Repression 2008-2010.
Modesto Anarcho, the Valley's Insurrectionary Journal of Class Struggle, is proud to announce our 15th issue. In addition, here's a new Timeline of Police Repression in the Central Valley, documenting instances of police violence, as well as actions taken against the police, from 2008-2010. Print both and distribute widely!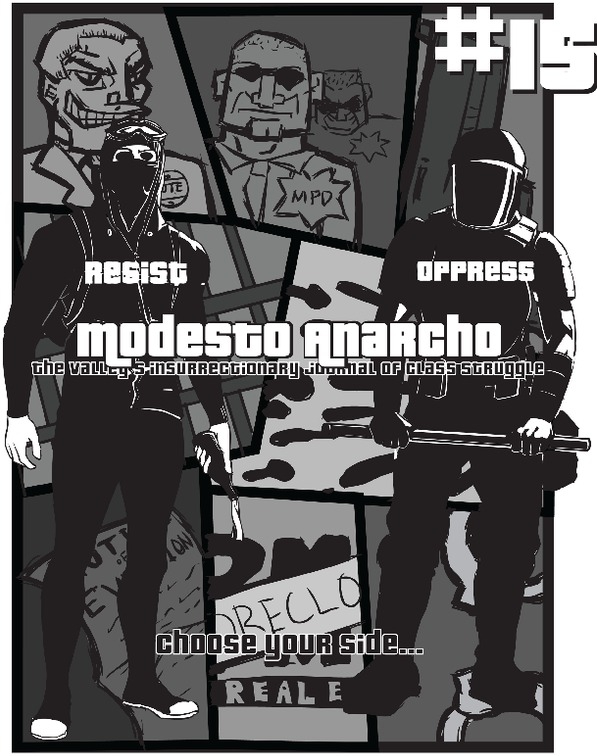 Download PDF (20.9mb)
About Modesto Anarcho Crew:

We want a stateless and classless society. We want to live in a world of autonomous communities without any form of hierarchy. We desire a world where all people have agency and control over decision making and their lives. Where power is spread out horizontally to all, not concentrated at the top. A world in which all resources that people need to sustain themselves are owned and cared for in common and in harmony with the Earth. We want to see human labor and creativity put towards real needs and desires - not profit.

We are against all governments and capitalism. We are against all governments because they are based upon a monopoly of violence. Government is a system of domination that functions to preserve a society divided by class.
We are against capitalism, because it benefits those who own the means of existence, not those who must work to survive. This is a system of wage slavery — in which we trade our lives for wages and then buy back what we need to survive with those wages. Capitalism deforms and contorts all human relationships by turning everything into a commodity, includ- ing the Earth, living things, and our very lives. Capitalism cannot exist without government — it needs the government's violence to protect the privileged position of those who benefit from it.

We reject the reformism of the Left — we are revo- lutionaries. We do not desire a seat at the table of politics; we desire working class power. We believe in people self-organ- izing for the purpose of taking direct action. Class society can only be attacked and destroyed and we must organize our- selves to carry out this attack and to maximize our own power. We believe that class society can only be done away with through the collective mass revolutionary action of all work- ing, poor, and oppressed people that creates an international human community through social revolution.

Modesto Anarcho is a quarterly journal produced in Modesto, California by Modesto Anarcho Crew (MAC). MAC is a street-based organization that exists to create revolu- tionary propaganda and participate and engage in class and community-based struggles in our area. This publication is free to all. We also run a social center, Firehouse 51, in down- town Modesto.
We have no demands for this system; we seek only its destruction.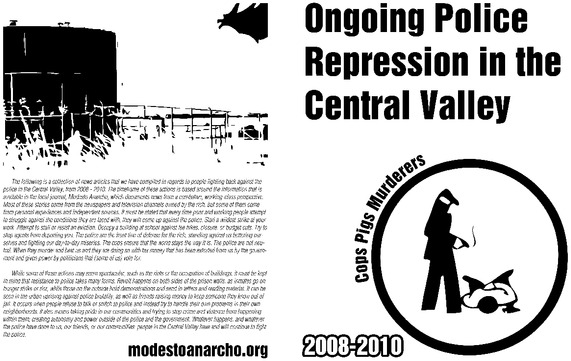 Download PDF (1.9mb)
We are 100% volunteer and depend on your participation to sustain our efforts!
Get Involved
If you'd like to help with maintaining or developing the website, contact us.