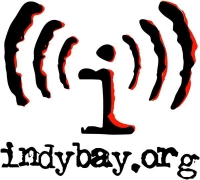 Ten Years Strong: Happy Birthday Indybay!
Born on March 23, 2000, online by August 2000, Indybay.org has hosted TEN YEARS of radical, independent media from the S.F. Bay Area and beyond. All posts, photos, videos, and audio hosted in that time are archived here for your continued use. Indybay has also been the home of
Santa Cruz Indymedia
since January 2006.
Indybay to Celebrate 10-Year Anniversary of Making Media And Making Trouble on November 13th
As we move forward with our financing secure through the next year at least, Indybay volunteers are gearing up for our big
10-year anniversary celebration
on
Saturday, November 13th
in West Oakland. MARK YOUR CALENDARS! It will feature a daytime media conference and an evening party with live music. We are still finalizing details, so if you have recommendations for speakers or performers, or would like to volunteer to assist organizing the event beforehand or on the day itself, please email the Indybay collective at
sfbay-web@lists.indymedia.org
.
Stay tuned for upcoming announcements on the anniversary event!
---
Even when we are not in the midst of a fundraising drive,
DONATIONS
are always put to good use! Please, consider becoming a
Friend of Indybay
to help us secure our financing into the future. Remember that Indybay.org is maintained by all-volunteer collectives and our costs are miniscule in comparison with the service that the website provides to the Bay Area, Santa Cruz, and Northern California activist communities.
Support Independent Media!