From the Open-Publishing Calendar
From the Open-Publishing Newswire
Indybay Feature
Tony Pirone Might Require Extradition to Compel His Testimony at Mehserle's Murder Trial
Is Tony Pirone attempting to avoid testifying in Johannes Mehserle's trial for the murder of Oscar Grant? The Alameda County District Attorney's office has filed papers to force former BART police officer Tony Pirone (
fired April 22nd
) to testify in the murder trial of Johannes Mehserle, set to begin with jury selection next week. Apparently, Tony Pirone is no longer a California resident, and it appears from the court document that he currently resides in North Carolina as a hearing will be held in that state to compel Tony Pirone's appearance in the trial. The request ends with a statement that, due to Pirone's hostility towards the prosecution, "If necessary, the People of the State of California will extradite ANTHONY J. PIRONE in the event that he fails to appear."

Johannes Mehserle's defense attorney, Michael Rains, has submitted his list of potential witnesses for the trial and strikingly not included was former BART police officer Marysol Domenici (herself
fired March 24th
). Domenici's exclusion was probably due to her horrendous performance during
Mehserle's preliminary hearing
in Alameda County Superior Court where she was exposed as lying numerous times.
Is Rains having second thoughts as well about the possible trouble Pirone might cause Mehserle in court if Pirone were to testify? Tony Pirone was included in Rains' witness list, although that list was filed with the court after the request to compel him to testify was made by the DA, so perhaps Rains felt it somewhat inevitable that Pirone would be at the trial anyway. Surely, police-friendly Rains is in contact with Pirone and shares intimate knowledge of what Pirone's intentions are regarding any potential testimony. Is Rains coaching Pirone on how to resist testifying? Is Pirone resisting testifying of his own accord?
With the trial set to commence on Tuesday, June 1st, in Los Angeles County Superior Court, it seems unlikely that a hearing has been scheduled in North Carolina before the trial begins. The District Attorney's office has requested that Tony Pirone be present from June 7th through June 25th (and the DA even offers to pay for travel-related expenses, something Oscar Grant's family will not receive as they spend a month in Los Angeles), but it is uncertain how quickly the interstate issues can be handled. Will that process delay the trial if Pirone cannot be compelled to testify in time? Will the trial proceed without Tony Pirone should any extradition process become dragged out? And, most importantly, how might all this hinder a vigorous prosecution of Johannes Mehserle for the murder of Oscar Grant?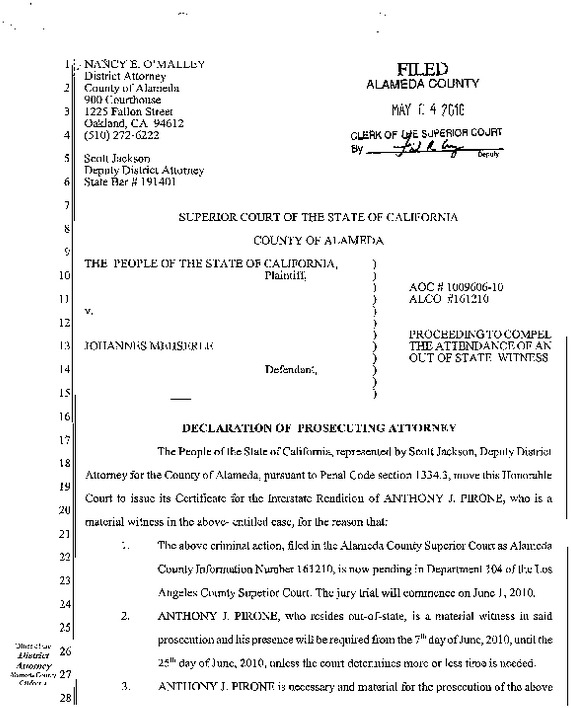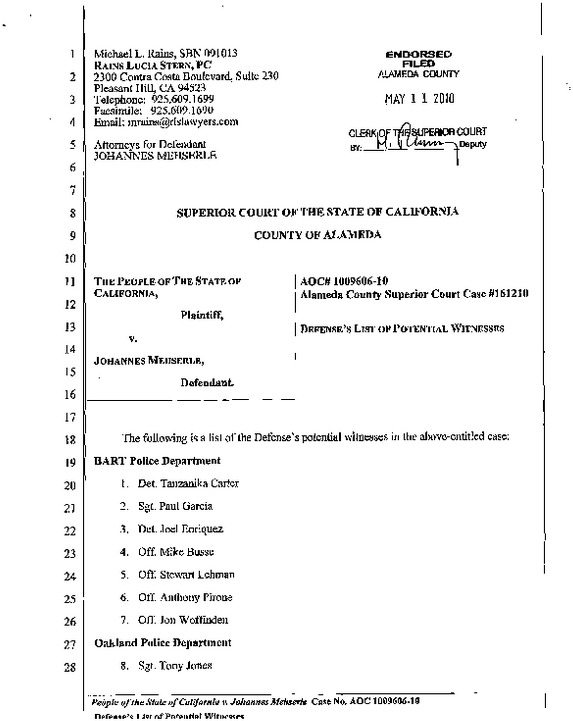 We are 100% volunteer and depend on your participation to sustain our efforts!
Get Involved
If you'd like to help with maintaining or developing the website, contact us.