From the Open-Publishing Calendar
From the Open-Publishing Newswire
Indybay Feature
Nancy Pelosi and the other California Representatives must pack up and go - Scott Brown.
Nancy Pelosi has had it good for the longest time ever - and the time has come for her to pack up and go. So, should the senior, Senator Diane Feinstein who has survived all this time - like a Black Cat with nine lives. The recent upset by Republican Scott Brown who upset everyone and won the seat held by Senator Ted Kennedy for over 49 years - is the sign of the times. These old Democratic farts that have been spewing diatribes - especially, the ones that make their abode in San Francisco - must go.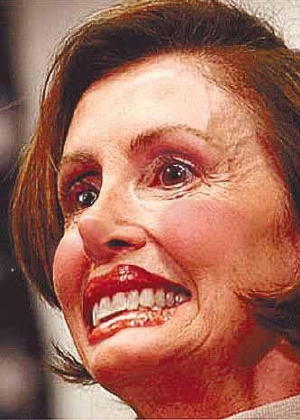 If you ask anyone about Speaker Nancy Pelosi and they know something about service and politics - they wonder how this woman has thrived all these years - doing so much wrong and amassing so much wealth. The time has come to remove this woman and with her removal - the removal of Senator Diane Feinstein.

The strategy the Scott Brown used was simple - hit the Democrats where is hurts most.

The Democrats with President Barrack Hussein Obama shouted out again and again that we wanted CHANGE. Millions of Independents agreed with that and they added and shouted back with Accountability and Transparency.

It is the votes of the Independents and their support on many levels that put President Barrack Hussein Obama in the White House. He must not forget that for one single second.

Speaker Nancy Pelosi has been praising the President while stabbing him behind the back.

The many meetings held behind close doors - linked to the on going Health Plan did not seat well with the many Independents. Notice, I am not paying too much attention to the Democrats and the Republicans because they think more or less in the same way - they pander to some philosophy that is mostly - "stupid" in nature.

Corruption is high in the Pelosi family - with husband Pelosi raking in million in Samoa - exploiting the poor linked to fruit canning operations. Of course the Samoans in San Francisco know little about this dirty little secret - much as they have just woken up to the bombardment of their community by the Rogue Company Lennar that is slowly killing their community.

The same with Senator Diane Feinstein who has had it good and pretends she is the Queenpin and controls most everything in Washington DC. What she does best is create avenues and opportunities - to see that her husband rakes in the millions.

Diane Feinstein was so stupid to sign in on to Proposition G - with Mayor Gavin Newsom and Sophie Maxwell - who is being RECALLED. Prop G is about GENTRIFICATION and Land Banking - and tells the world where Diane Feinstein has been and where she is heading - too. GREED.

The stance pulled by Scott Brown has SENT chills to all quarters and the Democrats will LOSE the next round and in course of time lose the hold they have - but, right now are slowly but steadily reeling down the drain into that sordid CESSPOOL that they have created because of their ineptness - and arrogance.

THE INDEPENDENTS WILL NOT GIVE THE DEMOCRATS A SECOND CHANCE - NEVER, EVER.

The millions of INDEPENDENTS are calling the shors - not the REPUBLICANS. So, the Republicans beware - do not take this victory as something that you won because of the way the Republican Party has been positioning itself or because REPUBLICANS have something new to offer. You do not and one jackass that has been ruining your party is DICK Chaney - opening his mouth when it could be duct taped.

Independents wanted change and what is more to send the drab Democrats in Washington DC a strong message - this clarion call will be repeated and in the course of the next six months - many Democrats will fall by the way and into oblivion. If you continue ignoring the people - continue in your corrupt ways - you will be called on and given your pink slip. No question about that - enough is enough.

Millions of decent people are suffering with no jobs, no bread on the table - and the U.S. Government treating the many that put President Barrack Hussein Obama in the White House - like dirt. This nonsense must stop - NOW.

President Barrack Hussein Obama has chosen "continuity" more of the same except that he has a better way of expressing himself because he carries a certain - charisma. But, all this is fading quickly - and the many behind the "close door sessions" have sent a wrong message to those that wanted - real change. Independents are astute, have patience, but once you cross the line - forget about it.

President Barrack Hussein Obama must rein those that received billions of dollars - those that behave now, like the scumbag Barnie Maddoff and his ilk. Goldman Sachs and the other vermin - have taken money from the tax payers and shafted the millions of decent American Tax Payers.
Decent American bailed these bastards and today the decent Americans are treated - bad. Where is the justice and fair play.

President Barrack Hussein Obama has NOT done thing worthwhile - while the many Credit Card Companies are preying on those that fell of bad times - because of those, who, with intent created "Sub-Prime Loans" and other dubious fiscal ploys and machinations - prey on the innocent, hard working tax payers all over this Nation and the World - just because Washington DC,the House the the Senate - sat on their behind and for years - did not have stringent laws to control the huge financial institutions that were borrowing money from the Federal Reserve for little interests, loaning the money for bigger interests, and gambling on loan papers and other devious models of loan documents - selling the same failed equity many times over.

Thousands of homes are in foreclosure. People are on the street and in shelters that ones lived in homes. The country is poorer now and the standard of living - spiraling. There are few Middle Class folks today. Today, we have the filthy rich and the other segment of the population that is growing by leaps and bounds - are the very poor. This a very sad state of affairs.

So, if we send the smart ones to Washington DC to REPRESENT us - and they could not catch these follies and still cannot - they must be dumb, arrogant - and therefore MUST be replaced. To so me they are called Congresspersons and Senator - but if they do not do their jobs - they are but, Buffoons.

Well, most people that invest put some faith in the Regulatory Agencies - but the Federal Reserve Bank failed and so did those that should have monitored the dubious Stock Exchange - and the large Financial Institutions that have few regulations.

China today has loaned us Trillions of dollars and everyday we borrow billions of dollars - turn around and give it to countries like Saudi Arabia. The average American cannot understand this folly - but that is how we operate. We have a dollar in our pocket and this Nation has got used to spending much more than it can afford. We are the laughing stock in many countries.

What makes this Nation great is our land - the vastness of it and all of it belongs to the Native Americans. But, here is the paradox the Native American is put on Reservations - and treated like second class citizens. Thugs rape the land - and treat the indigenous people like dirt. God sees it all.

Hundreds of tribes are NOT Federally Recognized in the year 2010 and yet we think we are a civilized Nation. President Barrack Hussein Obama must know this - I have written to him - he shares some bond with people that suffer - like those in Kenya - and must change the way we treat human beings - here at home.

Folks like Nancy Pelosi and Diane Feinstein that ride a high horse - must be reined in and put in their place.

Financial institution like Goldman Sachs, AIG, must be curtailed and their operations monitored - closely.

The Federal Reserve Bank that has nothing to do with the Federal Government and is a Private Entity - must come under the U.S. Government. Reverse, the nonsense and the take-over that which took place over the Christmas Holidays in 1913.

Ask anyone how much the dollar worth today - less then 8 cents. Those that know - know, that once when the dollar was backed by silver and gold - what you saw is what you got. When backed by bullion - your dollar was worth gold. Some may think this is fantasy land - but, crooks have sold us a Bill of Goods and look at you in the EYE and LIE - all the time.

The Democrats will be in shock but soon the Republicans too will be in for surprises - too.

There is a Third Silent Party - the Independents and when they see some wrong - they undo it by voting right. Scott Brown will admit this - he did WIN but only by 5 points - less, because he is a Republican but more because he promised to be ACCOUNTABLE. Time will tell.

I tell you one thing Senator Edward Ted Kennedy is rolling in his grave - not so much because of the Health Bill but because of the way the Democrats have been behaving. Foolishly and with rampant arrogance to back themselves every time they open their mouth - and put their foot deep inside their filthy, wicked mouths. Senator Ted Kennedy seat was held for 49 years - the lion of the Senate - he roared and made things happen. But, today the Democrats spat on his seat and let the Nation down.

One of those that made this sad episode a reality - the wicked, Nancy Pelosi from San Francisco. The same one that backs Sophie Maxwell and the devious ploys all over this City. The same evil matriarch that backs Mayor Gavin Newsom.

Francisco Da Costa
Director
Environmental Justice Advocacy
We are 100% volunteer and depend on your participation to sustain our efforts!
Get Involved
If you'd like to help with maintaining or developing the website, contact us.