From the Open-Publishing Calendar
From the Open-Publishing Newswire
Indybay Feature
Community Demands Action at BART Board Meeting; BART Lies Yet Again, 8/27/09: video and audio
Greatly dissatisfied with the dog and pony show at
BART's press conference
on Monday, August 24th, community activists and members of the Oscar Grant family interrupted BART's Board of Directors meeting on Thursday, August 27th. Speakers called out BART on their recent shenanigans and demanded that BART finally take action against the bad actors in its midst as well as deal more openly with the recent Meyers Nave report on the events surrounding the murder of Oscar Grant III on New Year's Day.
Pictured here is Dr. Ramona Tascoe demanding that BART take action. Featured further below are a video of community speakers at the Board meeting and full audio of the entire two-hour segment of the meeting related to justice for Oscar Grant.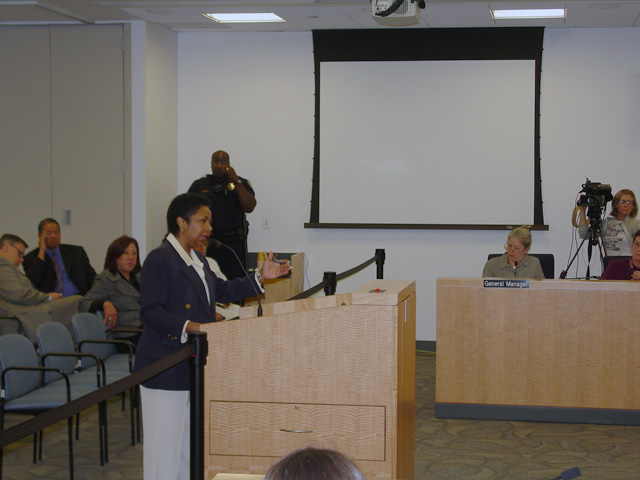 Eight months after the murder of Oscar Grant III, BART still prefers to protect its own rather than hold the bad actors in its ranks accountable. BART has not held a single employee responsible in any way for their actions on New Year's Day when Oscar Grant was murdered, for their roles in the related cover-up, nor for committing perjury during the
preliminary hearing
of Johannes Mehserle.
Mehserle
himself was allowed to quit in January before he was ever questioned by BART investigators. And now
BART Police Chief Gary Gee
has been allowed to plan for his retirement by the end of the year rather than be fired.
The public version of the
Meyers Nave report
released on August 18th, while incomplete on a number of levels, issued a stinging indictment of BART police behavior on January 1st, yet BART still has taken no disciplinary action against anyone involved. Additionally, BART has yet to publicly address the report other than through a
general PR statement
in which General Manager Dorothy Dugger assures us all that BART is "moving forward through our internal process to consider and act on the recommendations" and that she has "directed the Chief of Police to develop an action plan within the next 30 days." That would be the same Chief of Police,
Gary Gee
, who told Dr. Ramona Tascoe before the Board meeting began that he was "in opposition" to the Meyers Nave report, that he found it "inaccurate."
Coming up short in every way that they possibly could to make amends for the serious misconduct of their police and management, BART seemingly has been trying to hang its hat on their
police oversight proposal
. The problem with that is that after
three months of semi-public subcommittee meetings
to create the plan, followed by their push to get the community to lobby state legislators in support of it, BART again went with its historic penchant for secrecy and behind closed doors negotiated away the lynchpin of any sort of real police oversight for BART, that is they removed what would have been the Board's new authority to supersede disciplinary decisions made by the General Manager and Chief of Police. Their oversight proposal as drafted was already weakened as a result of concessions made to BART's police unions by allowing them to appoint one member to the "citizen" oversight board and by requiring a 2/3 supermajority for the citizen board and the BART Board of Directors to overrule the disciplinary decisions of the Police Chief and General Manager. But it would have been possible to appeal a police misconduct issue all the way up to the BART Board of Directors. By removing the BART Board's voice from police oversight, the plan is worthless as BART will be left exactly where it is now with the Chief and General Manager able to act freely as unaccountable apologists for police misbehavior.
BART had asked the community to lobby legislators for their police oversight proposal even though BART
did not make the final version of the draft public
until the Monday, August 24th press conference. BART was sending out
contact information for legislators
as part of their lobbying effort even though BART didn't release the text of the actual legislative changes they were requesting until after they had found a sponsor for it in the California Assembly. It is little wonder why BART did not release the specific updates they requested be made to the BART Act, as they had deleted the provision that granted the Board new authority in matters of police discipline. BART knew that the community was already leery of their
flawed police oversight model
, but that without the provision related to the Board's authority, there was no way the community would support the plan. BART was having trouble getting an Assemblymember to even sponsor their proposal, in part because when they began to lobby in Sacramento for it they already had the Meyers Nave report but neglected to inform legislators that the report was out. Legislators were not pleased with BART's withholding of the very relevant report while they lobbied.
Trying to engender community support for BART's plan, Lynette Sweet claimed at the
Sunday, August 22nd Town Hall for Justice
that despite BART having discussions with
PORAC
(Peace Officers Research Association of California), who oppose civilian police oversight, gutting BART's plan as PORAC wanted was a "non-starter." Yet by Wednesday, August 26th, Assemblymember Sandre Swanson was sponsoring an amendment to the BART Act (AB1586, previously called AB16) with no provision for new Board authority over police. BART straight up lied at the Board meeting, claiming that Swanson was responsible for the removal of Board authority, but when Community Council members asked Swanson about it on Friday he said that he was sponsoring the BART Act updates exactly as they had been provided to him by BART. It was BART who apparently deleted the provision at the request of PORAC.
PORAC wants to be on board with BART's police oversight plan because they are afraid of Assemblymember Tom Ammiano's
AB312
which would set a precedent with state legislation creating civilian oversight for a police department in California, but PORAC also wants to make sure that BART's proposal is as toothless as possible. BART, on the other hand, doesn't like AB312 because it mandates BART police oversight while their bill merely "allows" it, and BART wants to rush any old thing through, regardless of its efficacy, in order to be able to claim they have done something tangible in response to the murder of Oscar Grant before the one-year anniversary of his death (something tangible besides holding any employees accountable, of course). Why BART felt like it could lie to the public and blame it on Swanson, as if no one would attempt to confirm it with the Assemblymember, remains a mystery. Maybe the lie was just to get them through the Board meeting without further enraging community activists with yet another betrayal. Maybe it was because the Board members who rushed to Sacramento to promote their redacted version didn't want other Board members to know what they had done, since the Board had
unanimously approved
the non-redacted version. That BART would cave to the police lobby so quickly without even trying to put up a fight in the legislature is shameful, but it is par for the course for an agency that consistently shows no moral courage whatsoever. Fortunately, BART's efforts to pull a bait-and-switch on the community regarding police oversight will likely fail. Their plan to appease PORAC and rush through a bill, any bill, is likely not to make it through the required hurdles in time to pass both houses of the legislature by the September 11th close of this legislative session.
And so, with all of this in mind, family members and community activists organizing as the Community Council set out to
interrupt BART's business as usual
at their bi-monthly Board meeting on August 27th in order to issue demands that BART begin to take concrete action towards justice for Oscar Grant.
Community and family demands issued at the BART Board of Directors meeting:
- FIRE TONY PIRONE
- FIRE MARISOL DOMENICI
- FIRE GARY GEE (right now!)
- FIRE DOROTHY DUGGER
- Hold a PRESS CONFERENCE to address the
MEYERS NAVE REPORT
and the actions BART is taking as a result.
The community made it clear they expect BART to move on the demands within two weeks, or they will come back and hold their own press conference at the next BART Board meeting.
We are 100% volunteer and depend on your participation to sustain our efforts!
Get Involved
If you'd like to help with maintaining or developing the website, contact us.