From the Open-Publishing Calendar
From the Open-Publishing Newswire
Indybay Feature
Scientists confirm Rising Sea Levels may exceed one metre this century
Scientists meeting in Copenhagen have said that sea level rise this century may exceed a metre (3ft 3in), far beyond the estimates of the International Panel on Climate Change released two years ago which projected a sea level rise of 18 - 59 centimeters (7 - 23in) to 2100.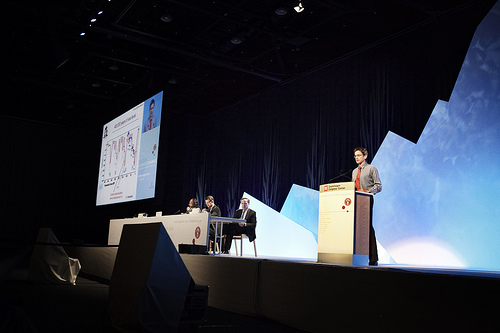 Fhoto: Lizette Kabré. Climate congress, Copenhagen 2009, 10-12 March. Professor Stefan Rahmstorf, Postdam Institute for Climate Impact Research.
"Unless we undertake urgent and significant mitigation actions, the climate could cross a threshold during the 21st century committing the world to a sea level rise of metres", said Dr John Church, lead speaker in the sea level session and from the Centre for Australian Weather and Climate Research in Hobart.
Related: Sydney Indymedia: Civil Society says "No" as geo-engineers mount shock bid to hack the planet
Scientists have put forward that emissions of greenhouse gases need to be reduced quickly and substantially to mitigate the worst effects of sea level rise and climate change. Even so, approximately ten percent of the worlds population - 600 million people - live in low lying areas in danger of being flooded. Even a rise of 50cm (19.7in) will have major impacts on low level coastal areas.
The assessment report from the IPCC from 2007 projected a sea level rise of 18 - 59 centimeters (7 - 23in), but clearly stated that not all factors contributing to sea level rise could be calculated at that time. The problem was that there was great uncertainty about the speed of melting processes of glaciers and ice sheets, particularly the Greenland ice sheet and Antarctic ic sheets.
"The numbers from the last IPCC are a lower bound because it was recognized at the time that there was a lot of uncertainty about ice sheets. The numerical models used at the time did not have a complete representation of outlet glaciers and their interactions with the ocean. The results gathered in the last 2-3 years show that these are fundamental aspects that cannot be overlooked. As a result of the acceleration of outlet glaciers over large regions, the ice sheets in Greenland and Antarctica are already contributing more and faster to sea level rise than anticipated. If this trend continues, we are likely to witness sea level rise one meter or more by year 2100", said Eric Rignot, Professor of Earth System Science at the University of California Irvine and Senior Research Scientist at NASA's Jet Propulsion Laboratory.
The loss of ice from the Antarctic and Greenland Ice Sheets has come under intensive scientific study the last few years. "The ice loss in Greenland has accelerated over the last decade. The upper range of sea level rise by 2100 might be above 1m or more on a global average, with large regional differences depending where the source of ice loss occurs", says Konrad Steffen, Director of the Cooperative Institute for Research in Environmental Sciences (CIRES) at the University of Colorado, Boulder and co-chair of the congress session on sea level rise.
"Measurements around the world show that sea level has risen almost 20 centimeters since 1880," explains Professor Stefan Rahmstorf of the Potsdam Institute for Climate Impact Research, who will give the plenary speech on sea level rise at the congress. These data also reveal that the rate of sea level rise is closely linked to temperature: sea level rises faster the warmer it gets. "If sea level keeps rising at a constant pace, we will end up in the middle of that 18-59 cm IPCC range by 2100," says Rahmstorf. "But based on past experience I expect that sea level rise will accelerate as the planet gets hotter."
According to Dr John Church "Sea level is currently rising at a rate that is above any of the model projections of 18 to 59 cm". he said. "Our study centered on Australia showed that coastal flooding events that today we expect only once every hundred years will happen several times a year by 2100", said John Church.
The Congress included many leading climate researchers, among others, Dr. Rajendra Pachauri, Chair of the IPCC, Lord Nicholas Stern, author of the Stern-report, which in 2006 placed the climate issue high on the international political agenda, and James Hansen from NASA. Researchers from several developing countries which will be hardest hit by rising sea levels, chose to contribute their research. The congress has received almost 1,600 scientific contributions from researchers from more than 70 countries and lays the scientific groundwork for politicians to make their decisions based on the latest research.
While many of the scientific presentations painted a bleak picture of increasing temperatures, rising sea levels and more frequent extreme weather events, presentations on renewable energy at the congress showed that renewable energy technologies like wind and photovoltaics could supply up to 40 percent of the world's electricity by 2050 with political support.
Peter Lund of the Helsinki University of Technology's Advanced Energy Systems in Espoo, Finland told a news conference March 11 "Our findings demonstrate that with global political support and financial investment, previous notions that the potential for renewables was in some way limited to a negligible fraction of world demand were wrong," said Lund. "If we prioritize and recognize the value of renewable energy technologies, their potential to supply us with the energy we need is tremendous."
Do our politicians have the political will to take the hard decisions in cutting greenhouse gas emissions by significant amounts and supporting the renewable energy sector? A synthesis report of the congress will be published in June this year. The synthesis report will be handed to all participants at the next round of multilateral climate negotiations at the United Nations Climate Change Conference (COP15) in December in Copenhagen.
Source:
We are 100% volunteer and depend on your participation to sustain our efforts!
Get Involved
If you'd like to help with maintaining or developing the website, contact us.