From the Open-Publishing Calendar
From the Open-Publishing Newswire
Indybay Feature
Kingston, TN: Members of United Mountain Defense take boat ride along TVA ash pond failure
First hand information about Kingston, TN Coal Ash Disaster by the United Mountain Defense

United Mountain Defense and Independent Media volunteers have been on the ground since December 22, 2008 gathering water samples of the coal sludge, learning all we could from local residents, handing out free education materials, and documenting TVA's coal ash pond spill. On Christmas Day two United Mountain Defense volunteers got in a boat and paddled out into the Emory River to gather water samples and an hour of video footage from the point where the ash spill meets the river. TVA has stated that the Coast Guard is on site, there are silt fences on site, and they were constructing a gravel levy around the spill.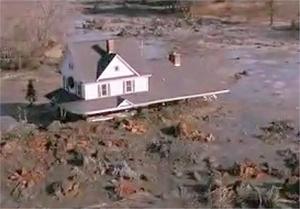 United Mountain Defense volunteer staff person Matt Landon stated, "We launched a boat after witnessing three kayakers paddle unhindered yesterday. To our surprise there was no Coast Guard onsite. We did not have to paddle over any TVA installed silt fences. We did not have to portage over any TVA built gravel levy. We did not see any fish. There was a large number of seagulls hanging out on the newly formed ash islands and the water was very shallow in some parts."
The coal ash, slurry or sludge is a byproduct left over after TVA burns their coal. It contains mercury and dangerous heavy metals like lead and arsenic, among many other potentially toxic and radioactive contaminates. Materials found naturally in coal are concentrated in the ash and become more toxic when burned and released from the coal carbon base. "As we floated along we were trying to figure out where TVA would store all of this toxic waste," said Matt Landon United Mountain Defense volunteer staff person.
A tragedy 40 times bigger than the Exxon Valdez Oil spill occurred outside of Kingston, TN.
Residents living near the Tennessee Valley Authority(TVA) Kingston coal power plant were flooded with approximately 500 million gallons of nasty black coal waste. "Many of the ash piles looked like a twisted grey version of the Bad Lands in South Dakota. While being surrounded by the oldest mountain range in the world, the Appalachians, we were floating amongst the youngest mountain range in the world. We named the highest peak Mt. Ash," said Matt Landon UMD volunteer staff person. The coal ash covered more than 200 acres of land and flooded into tributaries of the Tennessee River which is the water supply for Chattanooga TN and millions of people living downstream in Alabama, Tennessee and Kentucky.
TVA now admits that the ash does have heavy metals but that it is not toxic and that preliminary water tests show that the drinking water at the nearby water treatment facility meets standards. "There was a cream colored film floating on the water. At some times it looked like chocolate milk and may have been almost that thick. This ash was floating downstream unhindered as the current was strong enough to push our boat through the muck with some force at points. The flow was directed at the intake valves of the Kingston Water Utility," said Matt Landon United Mountain Defense volunteer staff person. The problem is that many of the families in the impacted area do not have access to safe drinking water because their water is being piped through the spill area from a nearby spring or they depend on well water
TVA is advising some families to boil water however they are not informing anyone about the reasons for needing to boil the water or sharing any chemicals that may be present in their water. On Christmas Eve members of the nonprofit United Mountain Defense were going door to door delivering bottled water and passing out information about the chemicals that may be present in the impacted drinking water. We also gathered parallel samples of the tainted tap water in glass and plastic bottles. United Mountain Defense volunteers met one man who had been vomiting for 12 hours after drinking coffee made from his un-boiled tap water. We also met a lady whose dogs had vomited after drinking the un-boiled tap water. Many people living in the coal ash spill area have not received any warnings to boil their water or notices that their water is safe. A woman's cat threw up after drinking this supposedly safe tap water.
Many people in the area are frustrated they had not received detailed information from TVA. Everyone's power has been restored but many people still don't have clean water. Some people given motel rooms by TVA while others living on the same street have still not been contacted by TVA. It appears that TVA officials have chosen who to contact based on other issues including the resident's income level, whether the TVA representatives know the local resident, or the local resident's political stance on TVA's activities. Many local residents reported feeling like prisoners while trying to pass through police roadblocks to their homes within the disaster area.
Many residences say that they are not surprised by the flood because TVA has been fixing leaks in the retention wall for years and one person said this wall had been leaking for months before it broke. For more information please visit
http://www.unitedmountaindefense.org
or call 865-689-2778 or 865-257-4029.
Check out our webpage at
http://www.unitedmountaindefense.org
Check out our blog with videos and photos
http://dirtycoaltva.blogspot.com/
WAYS YOU CAN HELP:
1) You need to begin sending requests to the Environmental Protection Agency, Tennessee Department of Environment and Conservation, TVA, State of TN, Congressional Hearings, and anyone else you can think of to request public hearings. United Mountain Defense is mobilizing people here and they are plenty mad. We are ground truthing to provide accurate info to inform you, the public. We need your help in bringing the TVA criminals and their crimes into the light.
2) United Mountain Defense needs money to purchase water for these coal impacted residents. On Dec 24, 2008 United Mountain Defense Volunteers passed out over 50 gallons of water to 30 households. We are going to deliver more water tomorrow. We are buying water at $1.39 a gallon at the local Krogers.
3) United Mountain Defense needs general support funds as we are an all volunteer run organization. We mainly get funds from bake sales, spaghetti dinners, and dance/ house parties. Any funds you could send would be used for our valuable work only. United Mountain Defense is a 501c3 non-profit. You can read what we spend money on and we keep all receipts.
Alright, Thank you for your time.
Till then, Matt Landon Full time volunteer staff person United Mountain Defense
United Mountain Defense
Matt Landon
(865) 689-2778
umdvolunteerhouse [at] yahoo.com
http://www.unitedmountaindefense.org
We are 100% volunteer and depend on your participation to sustain our efforts!
Get Involved
If you'd like to help with maintaining or developing the website, contact us.