From the Open-Publishing Calendar
From the Open-Publishing Newswire
Indybay Feature
Related Categories:
Remember Remember The Fifth of November
What?!?! You do not have your Guy Fawkes mask? Get outta here. Okay download this PDF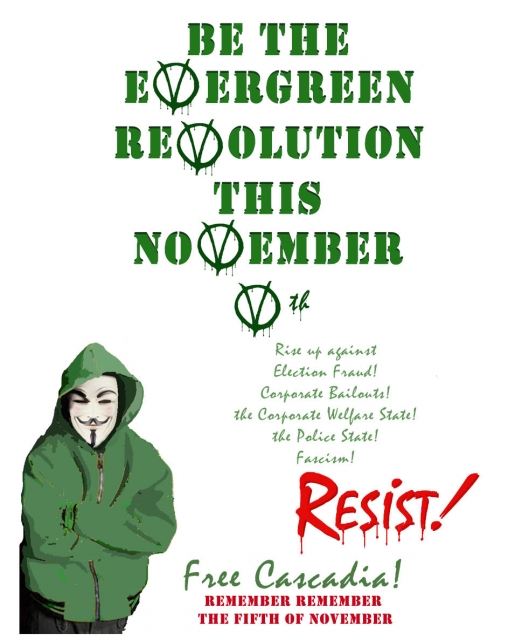 Well girls and boys that favourite holiday season is upon us again. It is time to gather the family and hang the pumpkins on the good old Halloween tree. Time to unbutton and zip down those over stuff pants after eating lots of tasty Vegan tofu turkey on Thanks Taking Day. Time to gather the neighbourhood kids in good cheer as we sing the traditional Election Fraud hymns. There is that great holiday called Bonfire Night to celebrate the rebellious actions of some guy. And who could forget that this Autumn season ends with an early Festivus. Hopefully this year there will be lots of "Airing of Grievances" followed by unusual amount of "Feats of Strength" to give us all that holiday joy and maybe even a "Festivus Miracle" or two.
It is my favourite time of the year. Memories of building leaf men from freshly fallen leaves. My childhood memories of kicking piles of leaves and leaf ball fights. But what is so important not to forget to purchase or make a traditional V for Vendetta mask. I often wear mine to work and when picking up the kids from after school. Right now as you read this stores are filling their stocks and shelves with those beautiful V for Vendetta masks. Yes that is right the mask popularised by the graphic novel and movie. Just imagine you sporting on a fashionable V mask with your hoody or jacket or any other appropriate attire. You could even don on some foxy black Jacobean Era outfit.
But you say "uncle Evergreen V, I ain't got no money to buy me a V for Vendetta mask, cuz the big business bailout also called the Emergency Stabilization Act of 2008 has left me penniless and I ain't got no job either due to outsourcing." I am so glad you asked me that question little Tiny Tim. Here is a shiny brand new penny for your thoughts. Well if you have just a little money for two colour prints then I have a deal for you. You can actually download a papercrafted V for Vendetta mask. This two page colour print out has tags or folds on the various sections of the mask to where you fold and glue the paper mask together. This can be a fun group project with friends and like minded people. You can even work side by side with your significant other or meet some like minded individuals for those heated discussions over steamy issues about civics and social justice. Make it a shared event with friends, neighbours, co-workers, classmates and family. It can be found at the following link:
papercraft-guyfawkes-pdf.zip
http://www.zshare.net/download/161188971bb2c38b/
I will add to this a round of applause to the first person or persons who can make a viral video going step by step on the print out to a well glossed version of the infamous V mask. Yes that is right a viral video rewarded with a round of applause from me.
Remember Remember The Fifth of November
Evergreen V
PS ... please watch
Remember
http://www.youtube.com/watch?v=5Ga7wsBd9_M&feature=user
V for Vendetta in Kinetic Typography
http://video.google.com/videoplay?docid=8332842891866779485&ei=LmjqSLeQG4nGqQKIzMmbDA&q=V+for+vendetta&vt=lf&hl=en
November 5 V Speech
http://video.google.com/videoplay?docid=4857964137818958423&ei=-GvqSKSrA5OwrAK17uT8BA&q=V+for+Vendetta+Revolution&vt=lf&hl=en
V speech
http://video.google.com/videoplay?docid=-2118953091665527418&ei=-GvqSKSrA5OwrAK17uT8BA&q=V+for+Vendetta+Revolution&vt=lf&hl=en
And please forward this message and make it "go viral!"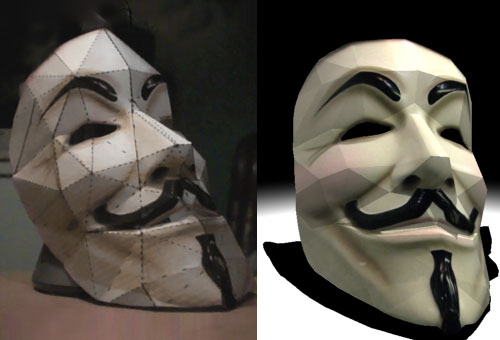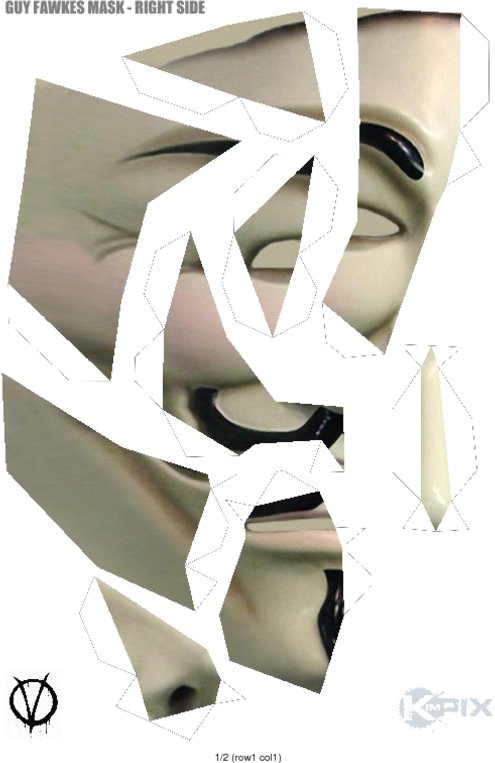 Download PDF (1.3mb)
We are 100% volunteer and depend on your participation to sustain our efforts!
Get Involved
If you'd like to help with maintaining or developing the website, contact us.