From the Open-Publishing Calendar
From the Open-Publishing Newswire
Indybay Feature
Love Life, Liberty? Impeach Bush/Cheney Rally/March in Palo Alto
Activists will rally at Lytton Plaza in Downtown Palo Alto at 1:00 p.m., Wednesday, March 14, 2007 to voice their opposition to government policies and demand that Congress launch the "Impeachment" of Bush and Cheney. The rally will conclude with a presentation of demands at Congresswoman Anna Eshoo's Emerson Street office. Like Pelosi, Eshoo doesn't want to touch "Impeachment."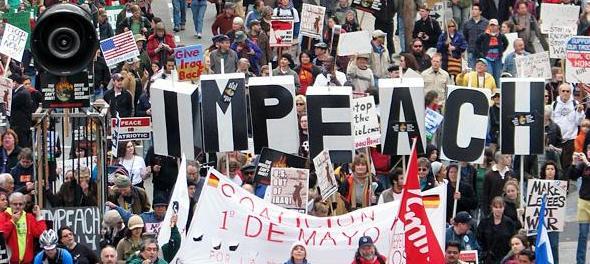 From Lytton Plaza and a humble weekly Listening Project begun in October 2001, many a rally and march have been launched to demand impeachment of the Bush Regime and a reversal of their foreign and domestic policies. Today is no exception, the Listening Project begins at 10:00 am and the Impeachment Rally will follow at 1:00 pm. Along with the impeachment issue, activists hope to draw more public support for the larger antiwar/impeachment rallies that are scheduled for the weekend in Palo Alto, San Francisco, Washington D.C. and other cities throughout the US.
Local organizer Carol Brouillet's message to Eshoo and Congress is simple:
"'We the people' are finding it hard to endure Congress's lack of scrutiny—and even encouragement—of Administration policies that have led us into immoral, illegal wars, gutted our Constitution and Bill of Rights, created the monstrous Homeland Security/Police State Apparatus that threatens the civil rights of peace activists and dissenters more than it threatens 'high-level Al Qaeda operatives'—who have been assisted, employed, and protected by the FBI, the CIA and the military, blatantly, under your watchful eyes. There has been no move by the Congress to rescind the offensive Patriot Act and the Military Commissions Act, nor has there been an outcry against the institutionalization of torture, the new legislation that allows the Executive Branch to easily declare 'martial law,' and the abolition of posse comitatus or habeas corpus. Bush and Cheney continue to lie, to attempt to link 9/11 to Iraq, to bully and threaten other nations, and to terrorize the American people and Congress.
"Bush and Cheney's flagrant high crimes and contempt for truth, justice, the Constitution, International Law, and human life have outraged the entire planet, uniting people everywhere against the United States government. The best hope for the country and the world is for Congress to commence impeachment proceedings and to immediately begin to roll back the Administration's aggressive, imperialistic policies. "
Many organizations are joining in a call for a "National Shopping Boycott" from Tax Day to Earth Day (April 15-April 22) to impeach for peace and justice and send a strong message to Congress. Spearheaded by
http://www.wearenotbuyingit.org/
.
Impeachment is supported locally by the Santa Clara Green Party, the Silicon Valley Impeachment Coalition,
http://www.impeachbush-cheney.com
, Veterans for Peace, Women's International League for Peace and Freedom, the Northern California 9/11 Truth Alliance, Bodies Count, the Peninsula Peace and Justice Center, and The National Coalition to Impeach Bush & Cheney.
We are 100% volunteer and depend on your participation to sustain our efforts!
Get Involved
If you'd like to help with maintaining or developing the website, contact us.