From the Open-Publishing Calendar
From the Open-Publishing Newswire
Indybay Feature
Helen Caldicott tour de force interview on Electric Politics
47 minute overview of the nuclear threat from THE EXPERT: Helen Caldicott.

(To download or listen go to the link below.)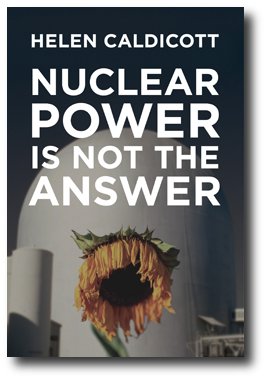 February 23, 2007
Mobile Chernobyls: Coming Soon to a Transportation Hub Near You!

Says George kenney who hosts the ***** political podcast Electric Politics:

"New IAEA Radiation Danger IconMea Maxima Culpa. It wasn't until recently (within the past year) when I began to ask myself about the true cost of nuclear power that I became skeptical. After reading Helen Caldicott, and talking with her, I'm now an anti-nuclear believer. Actually, if you stop and think about it just a little bit, it doesn't make sense to create vast quantities of a super lethal waste product that remains super lethal for hundreds of thousands of years, especially when we have no idea — none — how to dispose of it safely. Or even, to be honest, how to use nuclear power safely. Talk about a God complex! Nuclear truly is unaffordable, to say the least. "Wicked," as Helen puts it, is about right. Helen, who has been yelling common-sense from the mountaintop for nigh on thirty years is an international treasure and it was my very great privilege to talk with her. If you're interested in energy, worried about peak oil, but haven't gone anti-nuclear yet, please listen to this one carefully. If you're anti-nuclear already you're in for a grand tour de force. Total runtime here about forty seven minutes. Enjoy!"

Go to this hereto download or listen:
We are 100% volunteer and depend on your participation to sustain our efforts!
Get Involved
If you'd like to help with maintaining or developing the website, contact us.