From the Open-Publishing Calendar
From the Open-Publishing Newswire
Indybay Feature
The room was quiet as everyone began to pray, including Mr. Hussein.
"Peace be upon Mohammed and his holy family."

Two guards added, "Supporting his son Moktada, Moktada, Moktada."

Mr. Hussein seemed a bit stunned, swinging his head in their direction.

They were talking about Moktada al-Sadr, the firebrand cleric whose militia is now committing some of the worst violence in the sectarian fighting; he is the son of a revered Shiite cleric, Muhammad Sadiq al-Sadr, whom many believe Mr. Hussein ordered to be murdered.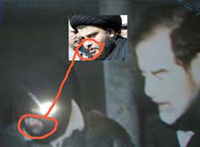 "Moktada?" he spat out, mixing sarcasm and disbelief.
As the noose was tightened around Hussein's neck, one of the executioners yelled, "long live Muqtada al-Sadr," Haddad said.
Hussein mockingly uttered one last phrase before he died: "Muqtada al-Sadr," according to Haddad.
Source: Jihad Watch
According to the Kurdish newspaper Netkurd there is a possibility that Sadr hanged Saddam. This might explain why the "guards" were shouting "Muqtada" and why Saddam's last words were "Muqtada al-Sadr".
Saddam's lawyer claimed that Shiite leader Abdel Aziz al-Hakim and Muqtada al-Sadr were present at the execution. The lawyers of Saddam say they will sue the Iraqi government at the International Court of Justice over abuses by executioners during and after execution.
More photo's and information can be found on the website Uruknet.
If this is true, then it's clear that the Americans didn't hang Saddam, but the Shia.
More
http://kurdmedia.com/articles.asp?id=13858
We are 100% volunteer and depend on your participation to sustain our efforts!
Get Involved
If you'd like to help with maintaining or developing the website, contact us.