From the Open-Publishing Calendar
From the Open-Publishing Newswire
Indybay Feature
DroppingKnowledge.org : Table of "Free" Voices
Dropping Knowledge, (dk) an international non-profit organization based primarily in Germany ( In the U.S., dk is a project of the Tides Center ) gathers 112 thinkers, artists, writers, scientists, social entrepreneurs, philosophers and humanitarians from around the world on September 9th, 2006 in Berlin to answer 100 questions in an experimental forum.
Set upon an historically loaded stage, Dropping Knowledge has constructed the world's largest non-governmental roundtable at Bebelplatz in Berlin Mitte (the central district). Less than half a kilometer from the Brandenburg Gate which only 17 years ago was the dividing line between East and West Germany and the east and west political "operating systems" following WW II, this square, lying between the State Opera house and the Humboldt University, is the infamous location where books were burned during the most reported and referenced fascist regime of modern times.
This "Table of Free Voices" is an unusual technological and social experiment in freedom of expression, which may reveal more more about mass media games and informational battlegrounds than providing a penetrating archive of diverse voices regarding critical global issues. The obstacle course that truths and diverse voices must run in order to engage in a functioning global discourse is a massive dilemma as our society attempts to access, link, and distribute all possible perspectives in today's collision of worlds.
Structured rather ironically like a Matrix movie set turned inside-out, each guest speaker, has a camera and microphone placed before her/him to archive 3-minute answers to "the 2 million Euro" questions ( just glanced at the Spectacle funding, which comes in large chunks from Allianz- a "progressive" german insurance Firm) simultaneously. In considering either the inchworm progress of live-streamed events or the internet's inability to adequately re-imagine "broadcast" communications, I presume this is primarily for Creative Commons re-use later on, though last i heard there was somewhere upwards of 10,000 viewers logged on, which is substantial as far as these things go.
Since I am in the midst of it, I will have to take some time to assess the goals and achievements further on, but in the meantime, the words of one of the speaker's, famed techno-critic Jerry Mander, captures the challenges alluded to above and a bit of the personal experience as it's happening:
" A dismal reality of modernity is that most information and "experience" is processed through technology. The effect is seperation, in ever more distant stages, from direct interaction with primary sources of concrete truth, reality, sustenance and power, as in nature or via direct unmediated contact with other humans. Like astronauts afloat in space, dependent on distant sources for all ( controlled) information environments, leaving us politically and psychologically vulnerable to whomever controls the imagery."
The fact that he is here, among a whole cornucopia of deep thinkers, is a sign that the enthusiasm for trying ANYTHING new is not just a hope and a smile but an urgent necessity that no one here needs to debate. And while the experiment clearly has a number of gaping holes, this rare convergence is a highly illuminating event to analyze. And again Mander's words land precisely,
"The choices for media activists today are either to try and avoid mediated (preselected) information - passed through technology - or to make " strategic embraces" of technology, given the environmental and political emergencies of this moment. "
Mander admits he usually opts for the former, and in many globalized struggles that holds a powerful message. And yet for those whose work is now nearly entirely immersed in the "media ecology" and/or perhaps pushed to contained corners by national agendas, borders, economics and war, online access to such ventures and progressive thought may provide invaluable information and inspirational models, even perhaps some clue to various Exit strategies. For those at the technological epicenter, and for those who will go beyond the often distracting glossy cover of celebrity activ-isms, this event is ripe fruit for "1st world" media analysis and deconstruction.
Interactive lab rats and media surfers beware, the colorful, shiny and heavily-laden labyrinths await:
http://www.droppingknowledge.org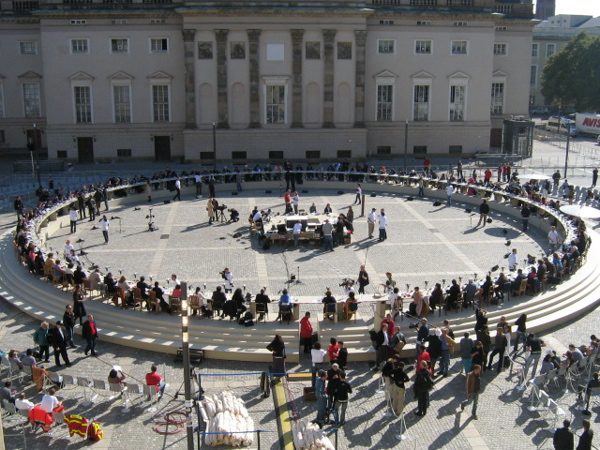 We are 100% volunteer and depend on your participation to sustain our efforts!
Get Involved
If you'd like to help with maintaining or developing the website, contact us.