From the Open-Publishing Calendar
From the Open-Publishing Newswire
Indybay Feature
Fresno's New Video Policing Policy
Fresno will fund video surveillance. See the story below for details.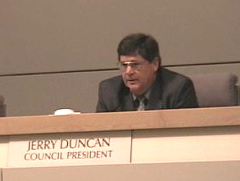 Fresno's New Video Policing Policy
By Mike Rhodes
At a city council budget hearing held today, it was decided to fund the Fresno Police Department's proposal to establish video surveillance in this community. City council president Jerry Duncan's proposal to fully fund the project, contingent upon a policy manual being adopted by the city council, was supported on a 5/2 vote. Council members Mike Dages and Henry Perea voted against the proposal.
Earlier in the day, council member Brian Calhoun's proposal to completely eliminate the video surveillance project was rejected with only Calhoun and Tom Boyajian supporting it. Later in the hearing, there was a vote on a modified proposal from Perea which would have redirected some of the funding to other police services but allowed a partial implementation of the project continent upon adopting a policy manual. Perea's proposal was defeated by a 3/4 vote. Duncan, Boyajian, Calhoun, and Larry Westerlund voted against Perea's motion.
For background on the budget hearings, see:
http://www.indybay.org/newsitems/2006/06/21/18281645.php
http://www.indybay.org/newsitems/2006/06/15/18280912.php
http://www.indybay.org/newsitems/2006/06/15/18280787.php
What all of this means is that Fresno has started down the path of funding a video surveillance project. With $1.2 million allocated in the City budget, there will be cameras installed. The first locations to have cameras will probably be the Tower District and Downtown. For more information about the civil liberties implications of video surveillance in Fresno, see:
http://www.indybay.org/news/2006/05/1825069.php
The one positive outcome of this is that their will be a policy manual to regulate the use of the video surveillance cameras. Restrictions on who has access to the data, how long the data is stored for, and who monitors the personnel in the control room will all be regulated by the policy manual. The Constitution Project (see
http://www.constitutionproject.org/
) has expressed an interest in having input into the manual. Council president Duncan has said he wants the policy manual written with community input and that funding will not be released until the manual has been approved by the council.
With video surveillance cameras looming on the horizon, the communities best interests will be served by developing a policy manual that explicitly protects civil liberties. Future articles on Indymedia will keep you updated on developments on this issue.
We are 100% volunteer and depend on your participation to sustain our efforts!
Get Involved
If you'd like to help with maintaining or developing the website, contact us.