From the Open-Publishing Calendar
From the Open-Publishing Newswire
Indybay Feature
California battles lucrative bear bile trade
"Crush cages" with brackets force the bear's body down so it cannot move while its bile is being extracted from its belly which is spiked with crude, dirty, often-infected devices to allow the farmers to "milk" their bile twice a day and sell the fluid secreted by the liver.
California battles lucrative bear bile trade
Teresa Castle
Monday, April 25, 2005
The world's appetite for bear bile and bear parts extends to the Bay Area and has even led to the hunting and killing of California's wild bears, state officials and animal rights activists say.
Lt. Kathy Ponting, field supervisor for the California Department of Fish and Game's undercover Special Operations unit, says game wardens regularly find black bear carcasses in the wild with only their gall bladders and paws cut away.
When WildAid, an animal rights group based in San Francisco, sent an undercover investigator into Chinatown last year, two shopkeepers readily offered up vials in velvet-lined boxes with a picture of a bear on the lid, claiming the powdered bear bile was from farms in China, said Executive Director Peter Knights.
One reason wild bear parts are prized is that some adherents of traditional Chinese medicine believe that by eating animal parts, they will take on the characteristics of the animal. Yet because California law bans the sale or purchase of bear parts -- with penalties ranging up to a $10,000 fine and three years in state prison -- the trade is clandestine and it is impossible to gauge the full extent of the problem.
But in 2001, when the World Society for the Protection of Animals conducted a probe of traditional Chinese medicine shops in Canada and four U.S. cities -- Chicago, New York, Washington and San Francisco -- it found that 91 percent of the shops surveyed sold some form of bear part, including farmed bile powder, bile medicines and whole gall bladders.
In San Francisco, bile crystal sold for $50 a bottle, the survey found, and whole gall bladders, which the merchants claimed to be from wild bears in China, sold for $129.
The Humane Society of the United States says smugglers have been caught with bears' gall bladders dipped in chocolate, in an attempt to disguise them as chocolate-covered figs, and packed in coffee to conceal the smell.
Knights said demand for the once-rare product remains high, which has led to more bears being killed in the wild. "People don't want to be like a bear in a cage, they want to be like a wild bear," Knights said.
Some users of Chinese medicines argue that Westerners have no right to criticize their centuries-old cultural traditions. But Anthony Marr, a Chinese Canadian animal welfare advocate, argues that "all traditions, sooner or later, have to give way to new advances, and for this practice, its time has come."
Another reason that wild bear parts are in demand is that consumers grew wary of prepackaged bear products after the state's Department of Fish and Game revealed that some "bear" products netted in sting operations were really from pigs and cows. Poachers sometimes go to great lengths to prove their bear parts are real, even videotaping the kills in some cases, Knights said.
In the mid-1990s, the Department of Fish and Game aggressively pursued bear poachers and held meetings with experts on the trade in bear parts. A yearlong sting operation in Kern and Tulare counties dubbed Ursus III netted 11 suspects in 2003.
Sting operations have helped tamp down the trade in certain areas, Ponting said, but she added: "We would be naive to feel we have it in check.''
State efforts were curtailed under Gov. Arnold Schwarzenegger when the Special Operations unit was cut from 10 wardens to six. It is only now gradually building back up, Ponting said.
"I wish we had the resources to do more," she said. "We're just spread so thin. We've got a lot of species to protect."
Tracing poachers is complicated by the fact that there is no uniform federal law banning the trade in bear parts, so poachers can transport their contraband from California to one of the eight states where the parts can be bought and sold legally. A number of bills have been introduced to put a federal ban in place, including bills by Rep. Elton Gallegly, R-Thousand Oaks (Ventura County), and Sen. Mitch McConnell, R-Ky., but so far they have stalled in Congress.
Ponting said she believes the major market for poached black bear parts is in California, with its large Asian population: "The supply and the demand are right here."
Miles Young, a former supervisor for undercover Fish and Game operations, suspects that many California bear parts are making their way to Asia. "Galls are worth a lot more going to Asia," said Young, who retired from the department in December 2003.
The trade can be lucrative, he said, especially for international smugglers. During one sting operation, he sent an Asian woman to buy gall bladders from poachers in Northern California. She was able to buy 35 in one day, paying $35 to $40 for them, he said. Agents then resold them to a Bay Area merchant for $300 to $400.
"You can add another zero to that to get the price in Korea," Young said.
Knights, from WildAid, says efforts to crack down on poachers are worthwhile.
"If you bust somebody and publicize it, the aftershocks can last for years."
But his organization is taking another tack, attempting to make the trade in animal parts unfashionable and to persuade consumers to use alternatives, like synthetic bile and herbal remedies.
The group has filmed television spots featuring Asian and international celebrities such as martial arts actor Jackie Chan, director Ang Lee and actress Michelle Yeoh. The spots have been broadcast to an audience of more than a million people a week, mainly in Asia.
Their tag line: "When the buying stops, the killing can too."
http://sfgate.com/cgi-bin/article.cgi?file=/c/a/2005/04/25/MNG9ACEIJF1.DTL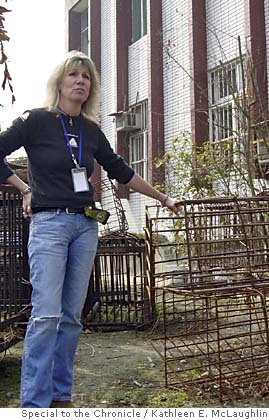 Freeing China\'s caged bile bears
Animal activists aim to curtail trade in traditional remedy
Kathleen E. McLaughlin
Monday, April 25, 2005
Chengdu, China -- Jill Robinson\'s life was forever changed when she stole away from her tour group on a Chinese bear bile farm and descended a flight of stairs to a dark basement, where she saw the dim outlines of cages.
\"I actually didn\'t understand what I was seeing at first,\" Robinson says. \"Then it made me sick to my stomach.\"
Dozens of bears, kept alive only for their bile, were trapped in cages so small they couldn\'t move, their bellies spiked with crude, dirty, often- infected devices to allow the farmers to \"milk\" their bile twice a day and sell the fluid secreted by the liver as medicine.
Suddenly, one of the bears reached a paw out of its cage. Unaware that moon bears, an endangered Asian black bear species named for the yellow crescent on its chest, are among the most aggressive of bears, Robinson spontaneously grabbed the animal\'s paw and held it. She marvels that she still has her arm.
\"In years later, it has shaken me and made me really believe there was a message there,\" she says.
Now the soft-spoken Briton, who went on to found Animals Asia Foundation, based in Hong Kong, is pressing the Chinese government to ban bear farming outright before the 2008 Olympics in Beijing and close down the farms where, according to the World Society for the Protection of Animals, 7,000 caged bears are being milked for their bile.
It is not an easy battle to win. Bear bile has been used in Chinese medicine for centuries to treat a variety of ailments, from inflammation and heart disease to impotence, Parkinson\'s disease and liver ailments.
Still, Robinson has had some success in her crusade to save the captive bears.
A Moon Bear Rescue center she started in Chengdu, Sichuan province, has grown steadily, particularly since the foundation signed an agreement with local government officials to help shut down the worst of China\'s bear farms. So far, she has saved 185 bears.
The animals arrive at the 25-acre refuge, after being purchased from farmers for a price Robinson will not disclose, in crude devices such as \"crush cages\" with brackets used to force the bear\'s body down so it cannot move while its bile is being extracted. Full metal jackets, encasing a bear\'s entire torso, prevent it from ripping out the painful tube in its gall bladder, the organ in which bile from the liver is stored.
The rescued bears carry their own peculiar scars. Truncated paws, where farmers have cut off entire toes rather than declawing the bears. Missing and broken teeth from chewing on the metal bars of their cages. Patchy hair from malnutrition. Head wounds from \"cage rage\" -- repeatedly banging their heads on the metal bars of their tiny cells.
Veterinary surgeon Dr. Kati Loeffler tries to save the damaged bears. In one recent surgery, she operated on a bear named Minnie who carried a crude catheter wired into place, buried under two pounds of scar tissue.
\"This can never be a humane industry,\" Robinson says.
The central government did not respond to requests for comment, but recently Beijing has allowed state-run media to carry a number of high-profile television and newspaper reports exposing cruel practices on the farms, an indication that forces in Beijing are beginning to lean against the practice.
In February, Vietnam signed an agreement with the society to phase out its bile farms, where an estimated 3,000 bears are held, a move that could put pressure on China and Korea to close bear farms on their soil.
Meanwhile, however, the steady stream of bile from farms is creating a burgeoning market for the product, not only in Asia but around the world, experts say.
A 2000 report by the society found bear gall bladders and bear bile medicines for sale in several U.S. cities, including in San Francisco\'s Chinatown, even though sale of the product is illegal in California.
The farms now produce an estimated 141,000 ounces of bear bile each year, outstripping even the growing consumer demand. In response, drug companies have started using excess bile in alternative products like shampoo, wine and health teas.
\"We\'ve reached the state now where we are incredibly frustrated with the inaction,\" Robinson says. \"We are appealing, just begging the government to do something about this.\"
The farms have few outspoken advocates, but among them is Dr. Fan Zhiyong, head the fauna division of China\'s office of the Convention on International Trade in Endangered Species, better known as CITES. Last year, Fan called for new rules to allow China to export bear-bile products.
\"China has a large market demand for bear bile,\" Fan wrote in a widely distributed paper in 2003. \"If it were not satisfied with bile powder from bear farms, this demand would attract poachers to kill wild bears, which would really endanger the survival of bears in China, and even of bears in other countries.\"
Indeed, China\'s bear farms sprang up after China outlawed the killing of native bears -- all listed as endangered species -- in the 1980s.
However, bear farm opponents argue that synthetic bear bile -- ursodeoxycholic acid, or UDCA -- is cheaper and just as effective. Professor Liu Cheng Cai, a medical instructor at Chengdu Military Hospital, one of China\'s top traditional medicine centers, says herbs and other medications negate the need for the animals\' bile.
At one major pharmacy in Beijing, bear bile powder -- golden flecks packaged in small glass vials -- sells for nearly $100 for two grams. In a sign that the campaign to substitute herbal remedies for bear bile may be gaining ground, the pharmacist said it works especially well on liver diseases but is not very popular these days because of the availability of cheaper alternatives.
Meanwhile, word of Robinson\'s crusade is spreading. Visitors to the organization\'s Web site,
http://www.animalsasia.org
, are signing up to support the sanctuary with donations ranging from $5 for a pot of honey to $3,500 for a bear den. Superstar Hong Kong actress and singer Karen Mok has signed on as spokeswoman for the foundation, and crocodile hunter Steve Irwin filmed a segment in February on veterinary surgery at the sanctuary.
Although rescued bears cannot be released to the wild, having long since lost their survival skills, they are freer at the sanctuary than they have been in years.
At the center, which costs $80,000 a month to operate, more than 100 roam between indoor stalls and outdoor play areas, hanging in basket beds and climbing on timber toys.
New arrivals await surgery to remove catheters and repair wounds, pacing about in cages substantially larger than the ones they had been confined in, getting used to being able to move around. They work on simple puzzles -- such as finding fruit hidden in small logs -- to challenge brains and muscles atrophied by years of confinement.
Some of the animals, ranging in size from the stunted 50-pound Franzi to the 7-foot-tall, 300-plus pound male named Emma, even eat fruit from workers\' hands.
\"When you think they were consistently enduring all those pain sensations all their lives ...\" says Robinson, her voice trailing off. \"We wouldn\'t be so forgiving as a species.\"
http://sfgate.com/cgi-bin/article.cgi?file=/c/a/2005/04/25/MNGFECEIVO1.DTL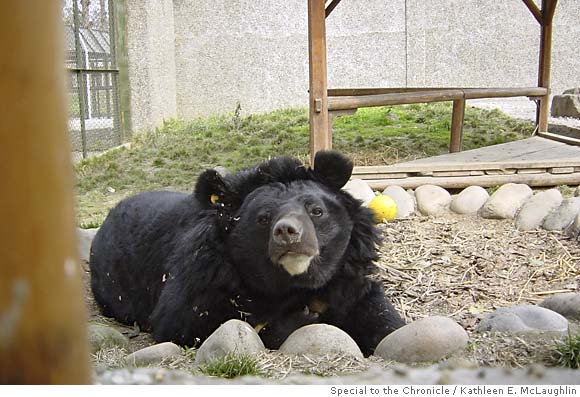 We are 100% volunteer and depend on your participation to sustain our efforts!
Get Involved
If you'd like to help with maintaining or developing the website, contact us.