From the Open-Publishing Calendar
From the Open-Publishing Newswire
Indybay Feature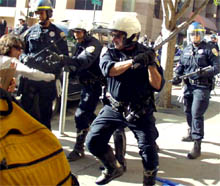 Mon Mar 22 2004
M20 SF Breakaway March: Police Attack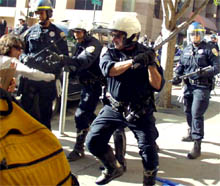 Reports: 1 | 2 | Video:  1 | 2 | 3 | 3 | 4 | 5 | 6 | 7 | 8 | 9 Audio:  1 | 2

Photos:  1 | 2 | 3 | 4 | 5 | 6 | 7 | 8 | 9 | 10 | 11 | 12 | 13 | 14 | 15 | 16 | 17 | 18 | 19
Legal Updates:  1 | 2 | 3 | 3/23: Charges against 7 dropped
At 2PM, over 500 people gathered at Polk and Grove for a breakaway march from the mornings
massive anti-war demonstration
. Hundreds of police
flanked
the march as it
left Civic Center
and moved towards the financial district. As the crowd
ran onto Market St.
, around 25 people in the center of the crowd got
surrounded by the police
near 5th St. before being told that if they didnt clear the street they would be "subject to being hit with police battons". Among those trapped by the police was
Brian Avery
, an ISM actvist who was
shot in the head
in Israel (
4/12/2003
) by the defense forces there. As the crowd chanted for the release of those who were surrounded, a few protesters
taunted an officer with a stick
resulting in the
police charging
and
hitting
the entire crowd on the sidewalk. While one protester managed to
break free
from police custody, the police slowly
arrested
most of those who were surrounded, putting them into
police vans
and a
police bus
. While this was going on, much of the crowd
moved up a side street
to get away. Even after everyone had moved onto the sidewalk, the
police moved in
and hit several people with battons. About an hour later as the crowd dwindled and the marchers were returning on the sidewalk to Market St, a police motorcycle was knocked over and as the police charged the crowd,
several protesters
and an
Indybay videographer
were tackled and
arrested
by the police.
Later Saturday night, there was a
jail solidarity
protest at 850 Bryant Street. Police formed a barrier around the protesters demanding the release of the estimated 80 prisoners inside. Police also continued their strategy of targetted harassment by picking protesters with masks out of the solidarity vigil in front, detaining and photographing them "under the Patriot Act," including a NLG legal observer. At least one person was arrested at the jail. One protester who was targetted and plucked out of the crowd was held on a $26,000 bond. The
NLG/Legal Team
has documented 99 arrests total for Friday 3/19 and Saturday 3/20, but there may still be people who have not yet contacted the legal office. Everyone is out of jail. There were 3 confirmed injuries- 2 broken arms and 1 broken thumb. Two people are being charged with felonies.
Full breaking news coverage from SF March 20th Antiwar protest
Related Categories:
Anti-War
We are 100% volunteer and depend on your participation to sustain our efforts!
Get Involved
If you'd like to help with maintaining or developing the website, contact us.