From the Open-Publishing Calendar
From the Open-Publishing Newswire
Indybay Feature
if you still as yet have not heard the news...

here is another excerpt from a work of art entitled...
THE SUN ASCENSION...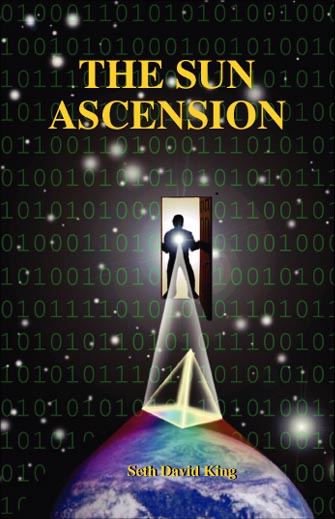 excerpt from a work of art entitled...
THE SUN ASCENSION...
GOD COMPLEX
==============
Reality, in the new millennium, is simple and yet quite complex...
For the difference between insanity, stupidity, and
genius in the world today is context.
And I, like many ambitious men, have my own personal God complex…
But I've realized not to place it in a wrong or foolish context…
Thus, this artistic attack for me is what's next.
I'm the poetic mystic visionary named Christ Vice…
And through my art…
I save like Jesus…
Bring justice like Jehovah.
Uncover the mysterious ways of Allah…
And enlighten like the Buddha.
Witness soon my arrival upon the world stage...
Understand my limited situation now...
And see me within my economic cage.
Soon I will be felt and known universally...
Like my spirit and mind...
Then my body will be able to travel the world at last delivered free from financial slavery.
I'll rapture myself up into worldwide cyberspace...
And soon I aim also for bestseller book & mp3 music charts…
Throwing poetic darts...
Fighting for the humanities and the arts…
And teaching about the universal and the fundamental.
In an effort to raise awareness in a fight for...
Issues environmental...
Spiritual knowledge...
God guidance...
Common sense...
Human education...
And soul from hell on Earth salvation.
For I'm here to fulfill biblical revelation…
Helping to lead mankind through the modern days of spiritual, intellectual, and environmental devastation...
And helping to bring forth a new foundation of knowledge and understanding to Earth's new generations.
This is also now a unified worldwide call for peace…
A completely non-violent yet still unstoppable attack calling for all violent and military human wars to cease!
Peace in between the U.S. backed, tank driving, nuclear weapon armed Israelis and the Israeli occupied, stone throwing Palestinians…
Peace in between the crips and bloods…
Peace in between the East and West…
Peace in between the North and South…
Peace on Earth forever after…
These are the words coming out of my mouth!!!
By Will of the Universal Creator and Lord Almighty...
Given to different people at different times in history by different names yet recognized in love beyond ego's now as One...
AKA Allah, AKA Jesus, AKA Yahweh AKA Jehovah, AKA Jah... i.e. God.
In the light of love, truth, intelligence, honesty, freedom, strength, skill, health, wealth, justice, world peace, and fun…
And in the ways of science, music, art, mathematics, language, medicine, engineering, philosophy, athletics, architecture, theatre, and all other of mankind's pursuits for the common good…
I proclaim now a new worldwide Universal Earth Nation of men, women, and children under God henceforth to be called....
The Nation of the Sun!
And forever after in our lives, may the Genius, Just, and Merciful Will of the Almighty One continue being done.
excerpt from...
============================================
THE SUN ASCENSION, by Seth David King
ISBN 1-55395-561-7; $19.50 US/$28.95 CDN, paperback; 190 pages
Striking. Illuminating. Poetic. Political. Spiritual.
"I'm here to love like Mahatma Gandhi...
And fight like Muhammad Ali...
I come to stand up for human rights...
And demand to be free!"
Available online via…
http://www.trafford.com/robots/02-1277.html
============================================
We are 100% volunteer and depend on your participation to sustain our efforts!
Get Involved
If you'd like to help with maintaining or developing the website, contact us.