From the Open-Publishing Calendar
From the Open-Publishing Newswire
Indybay Feature
MRS. DICK CHENEY ("Lynne")
IRATE VICE PRESIDENT CHENEY ISSUES A PUNCTILIOUS, LEGALLY PRECISE "OH, WISE GUY, EH? WHY I OUGHTA!" LETTER TO NEFARIOUS "WHITEHOUSE.ORG" TERROR PORTAL!

Mrs. Dick Cheney was born Lynne Ann Vincent on August 14, 1941 in Casper, Wyoming. The daughter of a ruggedly masculine sheriff and her demurely erudite husband, Lynne took an early and girlishly appropriate interest in those aspects of American art and culture which are so comfortably reminiscent of 18th century thought and tradition. A voracious reader of books, the young future Mrs. Dick Cheney took a special liking to the tragically romantic works of the Frenchman Victor Hugo, most notably his seminal novel "The Hunchback of Notre Dame," from which she would later would take her cue when selecting a mate.
After earning her Bachelor of Arts degree in English Literature from Colorado College, the not-yet-Mrs. Dick Cheney found herself still without a bread-winning spouse. Wisely hedging her bets, she took refuge in post-graduate education, earning both a Masters Degree and Ph.D. in the profoundly non-practical, yet supremely lady-like academic province of poetry studies. Fortunately for Pre-Mrs. Dick Cheney, a life of scholarly spinsterism was narrowly averted, when one fine July evening in 1964, she would cross paths with Mr. Dick Cheney, an old high school acquaintance. The two would dine together the next evening at a Roy Rogers Family Restaurant, then venture out for a night of dancing and sloe gin fizzes. Two weeks later, they were married in an intimate ceremony at a Las Vegas motor chapel. Mrs. Dick Cheney would go on to sire two daughters, Mary and Elizabeth, the latter of whom would fulfill her Godly obligation to couple with men and produce grandchildren in a naturally biological fashion.
In the years that have passed, Mrs. Dick Cheney has evolved into a prolific and prominent author. Her works include "Telling the Truth" (Simon & Shuster, 1995), a book exposing the inherently diseased nature of non-conservatism and socially uppity females, "King of the Hill" (Second Edition, 1996), the unauthorized biography of the late Massachusetts Catholic and (sex maniac) Speaker of the House Tip O'Neil, and "Sisters" (Signet, 1981), a Western romance novel celebrated far and wide for its graphic depictions of brothel activity, sapphic coitus, and myriad tittilating attempted rapes.
In 1986, then-President and future Washington DC airport namesake Ronald Wilson Reagan appointed the eminently qualified Mrs. Dick Cheney to become Chairman of the National Endowment for the Humanities. During her seven year tenure at the agency, Mrs. Dick Cheney would make tremendous strides in making art safe for Pat Buchanan. After the election of the Arkansas hillbilly William Jefferson Clinton in 1993, Cheney would resign from the NEH, declaring, "I am now eligible for a generous pension."
Today, Mrs. Dick Cheney is a Senior Fellow at the American Enterprise Institute (AEI), a non-partisan think tank devoted to improving the plight of average Christian white Americans everywhere. In addition, she serves as director of the Readers Digest Association, where she has been a forceful advocate for the commercial distribution of "Life in These United States" hardcover compilations.
Americans can be proud to have a Second Lady like Mrs. Dick Cheney, even if her vocal political activism does invoke the specter of Hillary Rodham Clinton - the grotesquely learned and opinionated former First Lady whose sickening example has corrupted untold millions of little girls into walking away from their God-intended lives of bare-footed pregnancy to become uppity feminazis.
For the duration of the Bush Administration, Mrs. Dick Cheney will join forces with Mrs. George W. Bush. Together, and under the stern management of Mrs. George H.W. Bush, these paragons of conjugal subservience will tackle a host of important issues, including but not limited to the promotion of juvenile literacy, and the fight to halt the proliferation of offensively bourgeois china patterns.
Mrs. Dick Cheney's star sign is Leo. She likes movies, Infusium 23 shampoo, postmodernist interpretive dance, and playing second fiddle.
http://www.whitehouse.org/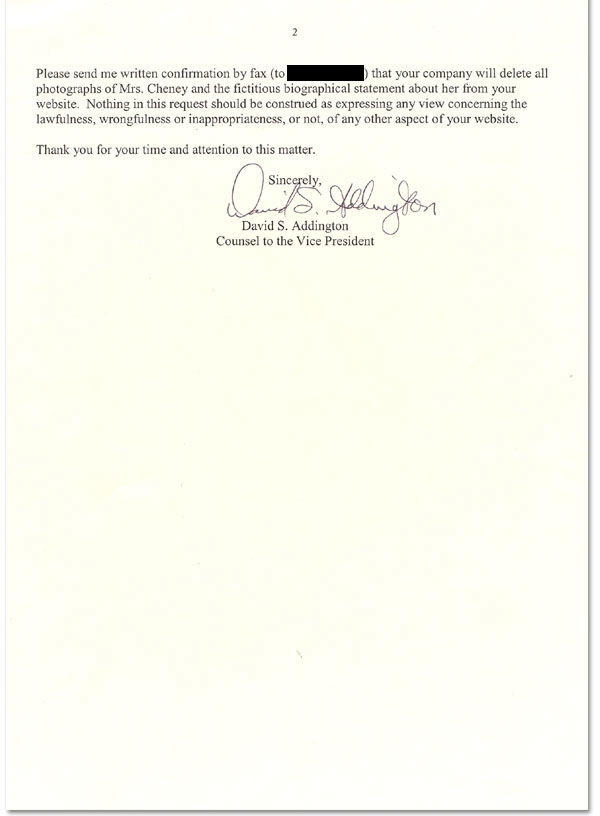 We are 100% volunteer and depend on your participation to sustain our efforts!
Get Involved
If you'd like to help with maintaining or developing the website, contact us.