From the Open-Publishing Calendar
From the Open-Publishing Newswire
Indybay Feature
Nov 11 Vigil for SOA Activist
SCHOOL OF AMERICAS
Many people are going to Georgia for this year's November gathering, as an alternative for those who cannot go and wish to show support, there will be a vigil for Chani Geigle-Teller in Dublin, CA on November 11th. She began serviing her federal sentence on September 10, 2002.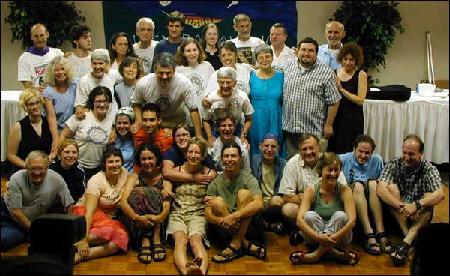 Many people are going to Georgia for this year's November gathering, as an alternative for those who cannot go and wish to show support, there will be a vigil for Chani in Dublin, CA on November 11th.
For further information about California vigil for Chani, contact Judy and Charlie Liteky at 415-334-4770; e-mail
jliteky [at] aol.com
.
Chani Geigle began serving her sentence on September 10, 2002
also includes mailing addresses for Chani and the other Prisoners of SOA
Last year over 10,000 people turned out for the School of Assassins annual protest and funeral procession. As happens every year, there are those who choose to stand in witness through their arrests and subsequent federal prison terms. Currently an Oregon activist, Chani Geigle is serving her prison sentence.
Many people are going to Georgia for this year's November gathering, as an alternative for those who cannot go and wish to show support, there will be a vigil for Chani in Dublin, CA on November 11th.
Chani Geigle began serving her sentence on September 10, 2002
People will meet at the Dublin-Pleasanton BART Station at
3 PM Monday, November 11.
We will march down to the intersection of Dublin Blvd. and
DeMarcosAve (this is about a quarter mile), and we will
vigil there for about an hour.
Participants are asked to bring signs, songs,prayers.
We have a big photo of Chani and will be making a poster out
of it. Charlie Liteky is contacting the PR person and the chaplain at
the prison to ask if someone would tell Chani that this is going on.
If you are unable to attend the vigil, please write to Chani at:
Chantilly Geigle
FPC Dublin
#90968-020
5775 8th St
Camp Parks
Dublin, CA 94568
incarceration date 9-10-02 projected release date 3-10-03
included below is a reposting of Chani's pre-sentencing statement
and some letters she has written from prison
CHANI'S PRE-SENTENCING STATEMENT
I come before you today with a heavy heart. I am really angry that I have been called here today. I am angry I've had to quit my job at a non profit peace and justice group in Salem. I am angry I've had to put my educational plans on hold. I am angry I am having to prepare to leave my community, my friends and my family.
But that anger is nothing compared to the anger I have over the honest jobs stolen by corrupt corporations, over situations where children do not have school as an option because they have to apply themselves to slave-labor jobs in order to help their families survive, over communities being torn apart, over lands being raped, over family members losing loved ones to the hands of state perpetrated violence. I am enraged at the injustices perpetrated by this country. I am filled with indignation towards the injustice that you and the system you represent are carrying forward.
I will never apologize to you or the United States government or to anyone else for protesting these injustices. But I do have one apology to make. I beg the mothers, fathers, daughters, sons, grandmothers, grandfathers, sisters and brothers of Chiapas, of El Mozote, of Colombia, of Guatemala and all of Central and South America, to forgive me for my participation in a system that oppresses, tortures and murders them daily. I ask the God of Life and Truth that sustains those people to forgive me. I beg that they hear my cries of repentence as I hear their cries of "Basta - enough is enough!". I also know that I cannot even ask for forgiveness if I am not willing to change my greedy lifestyle. Not only change my own lifestyle, slowly, day by day, decision by decision, but I must stand up to that lifestyle of greed and violence if I am truly sorry in my heart for the grief I have helped put in this world. I am determined to spend the rest of my life doing everything in my power to correct my wrongdoings.
That is why I am here.
I am not guilty because I protest and resist the School of the Americas and other violent institutions under your authority. Your authority will crumble and wash away. I have no faith in your authority. My authority comes from the same voice and heart of which I ask forgiveness from. It is those same mothers, fathers, grandmothers, grandfathers, sons, daughters, sisters and brothers that empower me to make my stand. It is God and life itself that says I am not guilty. That love and light and life of me and my co-defendants and the spirit of those affected by the SOA and other horrible U.S. foreign policies. We have brought that spirit here today and I swear to you, it is a force to be reckoned with. Go ahead, sit in your throne of injustice and sentence us to probation, prison and fines. But I am warning you now - the people will rise up - the people ARE rising up and we will be stronger than we ever have been before and the laws and systems and vaules of hate and fear that you are grasping onto now WILL FALL. For your own sake, Mr Faircloth, I invite you to join us. Basta - no mas! I invite you to stand up and make your plea.
We must accept finite disappointment, but we must never forget the infinite hope.
LETTER FROM CHANI
10-4-02
"President Bush delivered his first State of the Union address, riding high on an 82 percent approval rating, and with Attorney General John Ashcroft dispatching agents to interview the other 18 percent." - Jon Stewart To my Friends in Salem,
I am doing ok. Thank you so much for sending me the postcard with the latest events. It's so good to just be informed. Tell everyone that I am keeping active here informing the guards and the inmates about the SOA and linking it to other situations (i.e., this war with Iraq). It's really gonna happen, huh?
I am so scared for those people. All the mothers and children who are already fearing for their lives. Currently, I am reading this punk magazine a friend in here lent to me. It is from 9/11/01 and has all these fiery responses to 9-11. It has resparked me.
So, I am talking to inmates. I have made a collage that I am writing an essay for. I am writing a piece, hopefully for the Statesman Journal. I am a little late, but wanting to get letters out to [Rep. Darlene] Hooley and the rest.
I am preparing to hand out flyers to all the inmates on the weekend of the Georgia [SOA] protest.
If and, unfortunately when, I know I can count on all you lovely folks to be in the streets!!! I will be with you. If I was there, I would be in the front, leading the chants!!! Ain't no power like the power of the people cause the power of the people DON'T STOP!
In here, I will do all I can. Maybe fast. Maybe refuse to go to work. Maybe write peace slogans on my clothes or -- better yet -- all over my body so that they can't take 'em! Do any of you have any suggestions? I want to show my resistance and maybe get some media attention. What do you think?
I had my "team" meeting today. That is where you and all the big wigs around here meet to set up programming for your stay, so that you are ready for the outside when you leave. Ha!
They didn't like me that much. I am going to leave my hair bluish, not gonna pay my fine while I'm here; they don't scare me. Oh well -- BUT -- even though I was not "cooperating", I was totally nice and smiled the whole way through and told them to have a good day when we were finished.
Whew! It was nerve-wracking, but I think I did ok. They threatened me with this and that because I would not sign the contract to pay my fine. I told them I was aware of all the possible consequences and ready to deal with them. I said that I had the knowledge of the many who have come before me and, I added, that many would come after me. My "counselor" smirked when I said that and responded with, "Good -- Keep 'em coming."
I thought that was sick.
They said that my spending would be restricted to only hygiene items and that if I did not keep the utmost hygiene, I would be put in solitary for the rest of my time. In my head, I was angry, cause I thought of the "health" products they give us. I think they do more bad than good. But I just responded by saying that I'm sure my health was just as important, if not more important, to me as it was to them.
And last, they tried telling me that accepting and owning up to financial obligations was all part of the responsibility of entering adulthood. They knew I was all "anti-government" (did I say that?), but I was growing up now.
Hey -- did you hear that? They are going to help me understand responsibility and obligation.
Miss you all,
Chani
LETTER FROM CHANI
9-24-02
To my friends in Salem,
I do miss Salem so much. I have always loved just sitting outside of Coffee House with a toddy or latte or whatever, but now it sounds like nothing could be better. Salem is in my soul though and I think of you all every day. It gives me strength. Thank you. You can pass that message on.
I have calculated if I use all of my monthly phone time, it will cost $55 a month. I could probably spend another $50 at the commissary each month. I will make due with what I can, but if people want to contribute to my communication fund, I would be extremely grateful. Phone and stamps aren't cheap.
The best way to do it is to get a USPS [United States Postal Service] money order made out to "Chantilly Geigle, 90968-020". That will go through the fastest. People can send it to my address and then I will get a receipt for it. I feel strange accepting that sort of help, but, after two weeks and looking at 5 1/2 more months, I am ready to humbly accept that help. But tell people I am grateful for even just a letter.
People can send photos (no Polaroid's), books, cards, and magazines. Newspapers have to come from their source though and newspaper clippings have to be [photo]copied and then sent. Don't send stamps or anything like that though. I would love a little progressive reading material. I am making due for now, but know that I will run out soon. Plus whatever I get, I can share with the girls in here, who gobble up things to do as many of them will be here or have been here many, many years more than me.
Tell everyone I am fine and continuing the work in here. Several women I have already met already know of the SOA and many more are willing to learn. Before I leave, all 300 will know about the terrorist training that our country facilitates against the poor in Latin America!
Feel free to post my home address anywhere and tell people, if they have a lot of free time, they can send encouragement to my parents, Pete & Cheryi Teller, and to my siblings, Brandon, Stacy and Jordan.
Love ya,
Chani
As per Chani's request, here is her home address:
4692 Swegle Rd NE
Salem, OR 97301
THERE ARE OTHER PRISONERS OF CONSCIOUSNESS SPREAD OUT IN FEDERAL PRISONS THROUGHOUT THIS COUNTRY. THEIR ADDRESSES CAN BE ACCESSED AT SOAW.ORG ON THE 'TAKE ACTION' LINK AT THE TOP. PLEASE TAKE SOME TIME TO SEND THEM ENCOURAGEMENT. FLOOD THEIR MAILBOXES.
I
We are 100% volunteer and depend on your participation to sustain our efforts!
Get Involved
If you'd like to help with maintaining or developing the website, contact us.