From the Open-Publishing Calendar
From the Open-Publishing Newswire
Indybay Feature
Dia De Los Muertos/Day of the Dead
Dia de los muertos exhibition in san francisco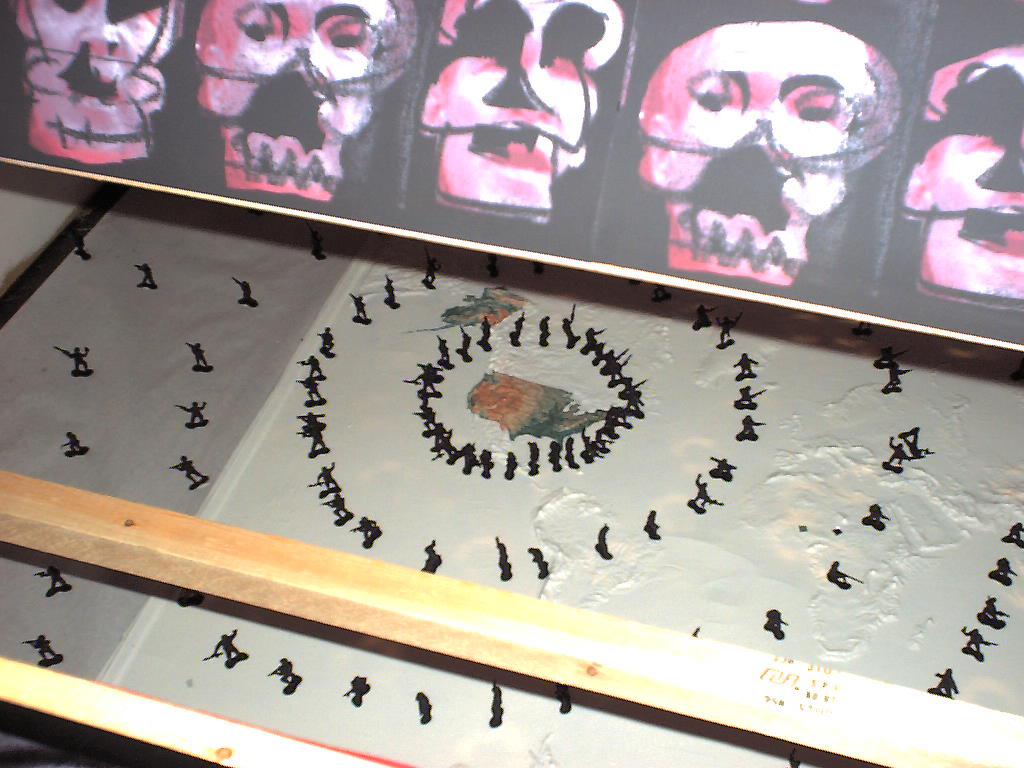 Each year San Francisco comemorates the Mexican holiday of Dia De Los Muertos - Day of the Dead - the ritual of building altars in memory of ancestors, those passed away - traces back to the indigenous traditions of what is now Mexico - see the following web sites for more info. on the history/background of this day... http://www.usc.edu/isd/locations/ssh/boeckmann/Dead/index.html http://www.dayofthedead.com/ In San Francisco the day has taken on two dimensions: one is the procession that has, in some years, attracted tthousands of people - and sometimes one wonders if folks are really participating in an ancient ritual, or just having a second holloween? However, a 2nd more important dimension has been the recent focus on "the dead" as including one's own family members and friends, but also those who've been killed in war, and militarism - and using the altars to remember the individuals who've died, and at the same time remembering the context of death: war, injustice, oppression, and straight out state brutality. A new meaning is given to the old "personal is political" cliche - that recognizes and honors the death of the individal friend, family, and "unknown" - and contextualizing death - within the larger societical and political forces that results in mass killings of children and families. . This year's comemaration included an exhibition at the SOMARTS ctr. - that was titled "Entre La Luz y La Muerte se encuentra la vida" from the exhibition's web site: " Explore a spiraling display of altars, sculptures and other art commemorating the Day of the Dead. Entre La Luz y La Muerte - Between Light and Death There's Life. It explores the undefined region between light and death. Some believe that one sees a calling/summoning/special "light" twice in a person's lifetime - once at birth and once at death. Some of the artists have interpreted that "light" as a symbol for the crossing over in both directions between life and death." http://www.somarts.org/html/events.html also see: http://www.missionculturalcenter.org/ Amongst the altars were two that stood out for me - pictures that I've included below - one was an altar titled Empire of Evil - that showed the US as a "center" with armies in ever growing cocentric circles - with guns pointing outwards : conquesting the planet. Another altar showed a demolished Palestinian home - with a drawing of a Caterpillar bulldozer engaging in the destructive act : revealing globalized corporate destruction in stark terms . While the Palestinian altar is more personal in nature - a home being demolished - both the altars bring home the work that is cut out for progressive forces in the US - be we cultural workers , writers , poets, artists, or street activists, organaizers - we have an immense responsiblity to continue our struggle.
We are 100% volunteer and depend on your participation to sustain our efforts!
Get Involved
If you'd like to help with maintaining or developing the website, contact us.