From the Open-Publishing Calendar
From the Open-Publishing Newswire
Indybay Feature
Nov 5: News Upates from Palestine-Amnesty International Accues Israel "War Crime&quot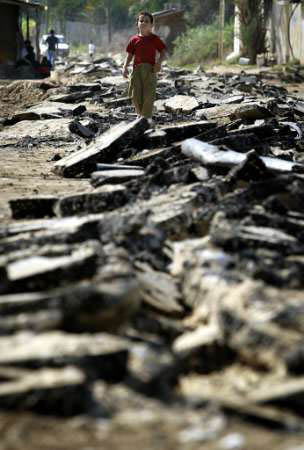 **Updates(from
http://jerusalem.indymedia.org/
)
JENIN
November 1 2002:Four homes that belong to activists from the Fateh and Islamic Jihad movements were demolished by the army, using explosives or bulldozers. and over one-hundred people were arrested in Jenin alone in the last few days, beginning with a massive Israeli raid on the town. Palestinian sources contest that the number is much higher, claiming that it also included elders and youth.
CAZA
November 1 2002:Three Palestinians were killed and a few others were wounded in an explosion that rocked a neighborhood in Gaza. Two more were shot by Israeli forces in Tulkarm, while news reports say that Palestinian fighters surrounded an Israeli army unit in the town.
Hamas Movement said that the three killed are members of its military wing, concluding that the explosion was a result of a "technical error", and not a planned assassination by the Israeli army.
**News Summary:
http://www.peacenowar.net/Palestine/News/Nov%205%2002.htm
1) Two Dead in Israel Suicide Bombing (Reuters)
2) HEAR PALESTINE (Nov 4)
3) HEAR PALESTINE (Nov 3)
4) Last week in Palestine (24 October - 31 October 2002), The Palestine Monitor
5) Israel/Occupied Territories: Israeli Defence Force war crimes must be investigated (Amnesty International)
<><><><><><><><><><><><><><><><><><><><><>
*To Translate this page to Arabic, please visit ajeeb.com:
http://tarjim.ajeeb.com/ajeeb/default.asp?lang=1
*To Translate this page to French, Spanish, German, Italian or Portuguese, please visit Systran:
http://www.systransoft.com/
FAIR USE NOTICE: This site contains copyrighted material the use of which has not always been specifically authorized by the copyright owner. We are making such material available in our efforts to advance understanding of environmental, political, human rights, economic, democracy, scientific, and social justice issues, etc. We believe this constitutes a 'fair use' of any such copyrighted material as provided for in section 107 of the US Copyright Law. In accordance with Title 17 U.S.C. Section 107, the material on this site is distributed without profit to those who have expressed a prior interest in receiving the included information for research and educational purposes. For more information go to:
http://www.law.cornell.edu/uscode/17/107.shtml
If you wish to use copyrighted material from this site for purposes of your own that go beyond 'fair use', you must obtain permission from the copyright owner.
---------------------------------------------------------------------------
Peace, No War
War is not the answer, for only love can conquer hate
Information for antiwar movements, news across the World, please visit:
http://www.PeaceNoWar.net
Please Join PeaceNoWar Listserv, send e-mail to: mailto:
peacenowar-subscribe [at] lists.riseup.net
---------------------------------------------------------------------------
We are 100% volunteer and depend on your participation to sustain our efforts!
Get Involved
If you'd like to help with maintaining or developing the website, contact us.